I Am Not Your Baby Mother, Candice Brathwaite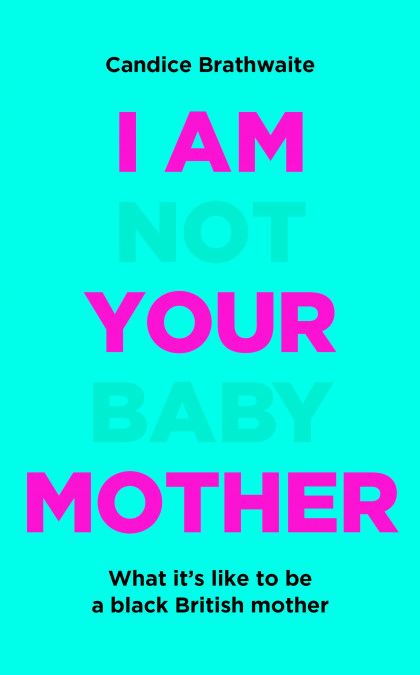 This book took me by surprise. It is equal parts fascinating, shocking, hilarious and unbelievable - unbelievable as in how can this shit be happening to a young woman in the UK, but is happening because she is black. I wasn't surprised by the injustice, but had underestimated the writer. The 'part-memoir, part-manifesto' begins in Candice's chatty writing-for-Instagram style and I couldn't work out if I could sit with a whole book in this form. But two pages in I was hooked and I finished it in a day.
Candice Brathwaite is a mummy influencer who has had a massive year, which I write about in The i Paper. She wrote her book before the pandemic and before the murder of George Floyd won audiences for people of colour across many industries, but it deserves every split second of attention.
Other people's secrets aren't as shocking when you read them as they are to the person divulging them, but Brathwaite has really gone for it. From her childhood which was poor in monetary terms with some good family relationships, to her abortion, nearly dying in childbirth, and ongoing racism which stretches from her white mummy blogging peers (see the Clemmie Hooper scandal) to her daughter's classroom.
She says she's caused waves in her own community for 'exposing' some home truths which, she says, black Britons don't like to share. Talking about yourself and your personal problems and your mental health, for starters. We think most communities have a way to go on this, but Brathwaite says black parents need another shove in the right direction. She is determined to dismantle the babymother and babydaddy labels, giving readers a tough lesson in slavery to explain why these stereotypes about black families seem to persist, and why she wants to rip them apart and show her functioning, nuclear family to the world.

She is 100% unabashed about the money she's making or the brands she'll partner with. Pretending life comes for free when it doesn't is one of the major problems of the Influenced generation, who think squeaky clean sneakers – a new pair each day of the week – are the norm not the exception. I am also refreshed by how she talks about her black peers displaying their wealth, whether that's dressing up or with houses and cars. It is fine for me to dress like a scuzz and to never brush my daughter's hair in some artfully boho middle class I've-more-important-things-to-worry-about way. But Brathwaite is used to having to present well for any occasion. First impressions are everything, which is why she went to incredible lengths to get herself a Bugaboo when it was far out of her price range.
The inequities she lays bare between black and white parents, women, young and working people in this country are more shameful than we can realise or admit to. Hopefully having a voice which is not academic, and political but not for the sake of politics, will open up this dialogue to people who will never sit down with Akala or Layla F Saad. Can't wait to hear more from Candice and I suspect she has plenty more to say.