Marking Time, Elizabeth Jane Howard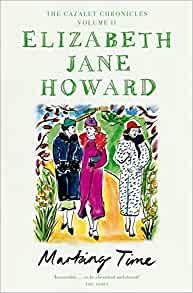 It's possible I loved Marking Time even more than I loved The Light Years, the first in the five-book Cazalet Chronicles which had been recommended to me over and over (mostly by Daisy Buchanan, whose brilliant podcast You're Booked can be found here, yet they seem to crop up everywhere and anywhere).
But it's hard to play favourites because I adore them both. Author Elizabeth Jane Howard, writing through the 1990s, has created a cast not just of several characters but of several families of characters, who we meet on the eve of the Second World War.
Possibly I love Marking Time more because I have well and truly fallen for them all by the time I read it. Probably it's because I denied myself for almost six months - reading The Light Years over Christmas 2021, at which point the Russian invasion of Ukraine was looming, which made the imminent war in the book all the more terrifying. We of course know how that went.
The families of the Duchy's three sons decamp from London down to Devon for the war. There is death, evacuation, rationing, bombs, boring aunts, annoying brothers, awful stepmothers and everything you might expect from a many-tiered family. But there is so much joy and so much human connection.
The book is a tonic to current misery, or more like a double gin and tonic. I saved the second instalment for my summer holiday because I wanted to make sure I could devote myself to it, which I did while reclining on a sun lounger by a pool in the Algarve, and I hope to submerge myself in the third book - Confusion - this Christmas.

Howard's writing is flush with detail. She brings us all the details of daily life that so many modern writers would deem unnecessary, each one a joy. I do want to know how on earth the Duchy makes a few apronfuls of plums and some leftover seed cake feed twenty at tea-time and exactly which magazines the teenage girls are reading and how they write letters to men they enjoy spending time with but aren't sure they'll ever really fall in love with. I am entranced to discover how their stoic governess manages to present herself for service daily with only a few shirts and some broken shoes to her name.
Marking Time has something of a pandemic feel to it. While obviously my sitting at home and drinking vinho verde and receiving exciting food packages for a year is incomparable to living through world war two, I can grasp at the nostalgic void of time lost, and the melancholy at what might have been, which is brought to the fore in the stories of the adolescents in the families.
There are so many things to feel grateful for at the moment, and so much to be fearful of, and having three more of the series remaining in my future - and as many re-reads as my one wild and precious life permits - makes me feel very lucky indeed.