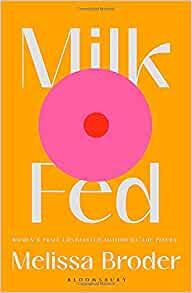 Melissa Broder is an enthralling and inventive talent and I have an absolute hard on for anything she writes. I began with The Pisces last summer, amid three weeks in Portugal that was great for reading (Hamnet, Fleishman, Shuggie Bain), bad for working (did too much of it) and sucked for relaxing (couldn't; had pinned way too much on FINALLY leaving UK and covid behind).
The protagonist of The Pisces (2019) is on the run from a bad, too long and too fruitless relationship, holed up at her rich sister's Venice Beach home to dog sit. She is looking for love, and sex. She dates, disastrously, before finding the real thing in the arms of a merman she meets on the rocks. This isn't sci-fi, perhaps you could term this plot twist magical realism, but it is engrossing and breathtaking and carnal and darkly hilarious, and often grotesque and tragic.
For her follow up, Milk Fed (2021), Broder has another lonely heroine, 24-year-old Rachel who works for an LA talent management agency and counts every calorie she eats, every single day. The controlling influence of her east coast mother is blamed for this, and when her therapist suggests a 90-day break in all communications, Rachel meets a new friend who introduces her to the pleasures of eating.
It isn't hard to combine the joys of food and sex, but Rachel falls hard. Her new friend is Miriam, an Orthodox Jew who owns a frozen yoghurt parlour and entrances Rachel with her rich and loving family as well as the food and drink which make Rachel happy, or happier, for a time. She notices herself getting fatter and begins to see some of her other relationships for what they are, while beginning a sexual relationship with Miriam - meaning that both women have truly crossed the boundary of what they consider acceptable in their worlds, or acceptable to their families and cultures.
It is rare to find writing as tactile as Broder's. You can feel every bite or slurp, each squeeze and tickle and suck. It is elaborately filthy and funny and soul-searching. It is out of this world and yet so fully of it - droves of readers will empathise with the mother issues and food issues and love issues it feasts on. It's a book I was thrilled to find in the library and now want for myself.
I bought The Pisces from World of Books, a great second-hand retailer with seemingly every title under the sun