One and Only, Lauren Sandler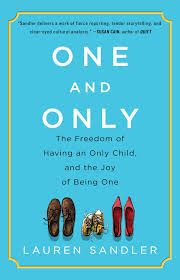 This is the second book on having one child I have read and it is brilliantly researched, coherently argued and passionately persuasive. Sandler, a successful New York writer, is an only child herself, and I couldn't find any holes in her argument for sticking to one child if you want to save your own creative and other lives. As I was reading, I wondered if she was going to overlook the environmental angle (the book was published in 2014) but then she drives it in, hard and honest. I've been reading so many books on only children not just for the sake of my own family, but also with a view to writing my own, and Sandler made me wonder if I had more to say than she already has.
Some shouty headlines came out at the time, pillorying a woman who would put her own needs (what we know now as self-care) above procreation. How funny and quaint those ideas seem to me, and yet how true and vital they seem to so many in the world.
This week I wrote about the controversial idea of population control for The i Paper, in a piece which looked at my situation along with a new BBC documentary fronted by Chris Packham. From the research I am more terrified about climate change and the changes we'll see in our lifetimes, than before. But I feel less bad about what my having another child might do to the planet. What about how our children may suffer because of global warming? Is it even fair to bring new life into this crusty old world?
I'd recommend Lauren Sandler's book to anyone thinking of sticking at one, as well as to their friends and families who might struggle with this.
One and Only (Simon & Schuster) is out of print but available on Kindle for £9.99 and there are lots of second-hand copies around too.