People Person, Candice Carty-Williams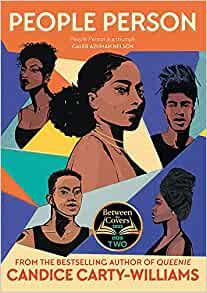 A tender but joyful follow-up to Queenie, Carty-Williams' stellar debut. People Person shows her skill for characterisation, as she brings us a family of five siblings who share a useless and mostly absent father, Cyril Pennington, as well as the four mothers. Protagonist Dimple is lost when we meet her, desperate for affection whether real or online. When her siblings come together in adulthood, they finally find a sort of home with each other.
People Person is a busy, funny and generous story. The Pennington children's escapades can verge on the farcical, but Carty-Williams brings them back down to earth deftly with the contemporary issues woven into her plot - families rent apart by migration, young black men and the justice system.
I listened to a podcast in which Carty-Williams said she had written almost a whole book before realising it was the wrong one. She then turned out People Person. Good for her, and for us.
Currently £12.34 (Orion) at Bookshop.org, the online marketplace which supports independent sellers.