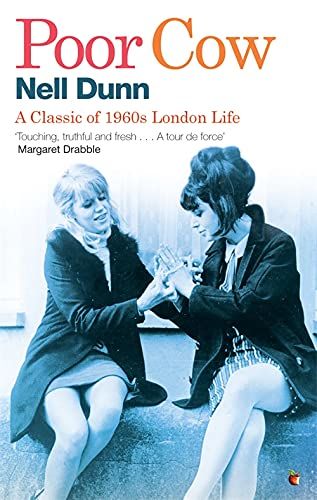 January 2023
Doesn't sound like a cheery read to start the new year! But Poor Cow is refreshing, original, and gave me pause to reassess and feel grateful.
I got Poor Cow out of the library at the same time as Free Love, without knowing it was one of Tessa Hadley's source texts for the latter. But the lives of Phyllis and Poor Cow's protagonist, Joy, are worlds apart. Joy is based on a real friend of author Nell Dunn, a free-speaking and fun-seeking young mother in the late Sixties who enjoyed life and wanted love and seems truly to live in the moment.
She has a baby with her husband Tom, now in jail but she's fallen out of love with him anyway. He moved her out of the city to a boring new home in Ruislip and began to hit her. Marriage, she realises, is not for her. Her experience of it is violent and isolating. She falls for one of his former associates, Dave, a genuine romance until he too is sent to jail. She writes him love letters and promises to wait for him, emotionally if not physically, moves back in with her Aunt Emm then works as a barmaid where her friend introduces her to the possibilities and rewards of an open and free sex life.
Joy's honesty is arresting, her directness lyrical and incredibly moving. She drifts from tender moment with the baby to describing men and sex and getting on with life. I can see why Tessa Hadley found it such a brilliant background text and want to see then film asap - Ken Loach made it soon after publication, starring Carol White from Cathy Come Home, while the book was re-published by Virago in 2013 with the tagline 'A classic tale of London life'.
I borrowed Poor Cow from the library. I knew that authors get a cut each time their book is borrowed, but have only just discovered this is around 30p a read, which is a similar amount to the cut they get from a full price sale, and more than a discounted sale.