Quit Like A Woman, Holly Whitaker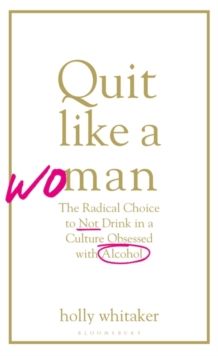 I am torn between loving this book and mistrusting it as a marketing scam. Its author Holly Whitaker is sober but rejects the traditional AA route as a dogmatic one-size-fits-all solution to alcoholism created in a different era for different people - people who were middle class male wage slaves. I hate being told what to do so I chime with her manifesto that we should each use the methods that work for us when it comes to not drinking, which for Whitaker involved lots of small acts of self-care such as yoga, meditation and sleep. She talks about sobriety requiring commitment over discipline, and that it's not about deprivation but giving yourself all the wonderful things your life is missing while you drink. 'Am I an alcoholic?' is not the pertinent question, she insists.
Whitaker also runs her own sobriety courses, Tempest, which has made her a target for critics who say she is peddling expensive ideas to women who don't want to admit they are alcoholics (she doesn't make people use this word, or swear they are addicts, and points out you don't need to reach rock bottom before you decide that alcohol is an obstacle in your life) so in this way she could be seen as the SoulCycle or Lululemon of sobriety.

And yet I like her energy, her ideas and her - yes - commitment to this life. I'm sure many people are put off giving up if they think AA is the only solution, picturing the evenings of the rest of their lives spend in dank church basements drinking weak tea with strangers. Whitaker shows there is another way. There are many other ways. And if she has a special talent for helping people find these other ways, and she makes a great wage from it, so be it. She is, as she points out, a rare female success in terms of winning funding for internet startups.
I follow her advice to build a morning ritual which I have mostly stuck to for the past month. I start the day with a hot water and lemon and a short meditation. My phone is downstairs and I don't look at it until I am actually starting work or need it for some genuine task. I don't have caffeine after midday, except for the odd tea. Unsurprisingly this ritual fares less well the mornings after the nights I have been drinking. It's a start. A start which helps me to put off addressing the drinking for now. You need much more than this morning ritual, of course, you need therapy and exercise and mantras and toolkits and evening rituals and all sorts of things to support you through full days and complex situations without reaching for alcohol as a crutch.
To be honest, as I'm writing this review about a month after reading Quit Like A Woman, as I prepare to give the book back to its owner, I want to read it again. I feel like this because I didn't drink last night and got a great sleep so feel full of all the hopes and possibilities of quitting.
Whitaker also runs a great website, The Temper, full of stories from and about sober women.
I would recommend this book to anyone - ANYONE - who is sober curious, or has a sober friend or relative they want to be help in better ways.
Quit Like A Woman: The Radical Choice Not to Drink in a Culture Obsessed with Alcohol (Bloomsbury, £14.99) is £12.05 on Hive right now