Takeaway: Stories from a Childhood behind the Counter, Angela Hui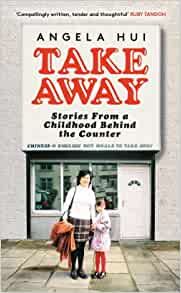 A tender memoir from London-based food journalist Angela Hui about growing up in her immigrant parents' Chinese takeaway in Wales. Her story shares the inherent difficulties of growing up between cultures, including the terrible racism directed at her parents through the 80s and 90s when Hui and her two brothers grew up, and her split identity between indie Welsh teenager and good Chinese daughter.
Like many immigrants, Hui doesn't feel fully one or the other, and often wishes her parents weren't quite so 'different' to her school friends' families. She works long hours in the shop and endures her parents' rocky relationship, but works out she wants to become a magazine journalist and escapes to university.
Her parents never learn to speak English and she has to translate for them wherever they are, though in Hong Kong her own grasp of Cantonese is teased. Her mother escaped the Cultural Revolution, and as Hui grows up she comes to understand the enormity of the gulf between what was left behind and where they find themselves in the UK.
She uses the ebb and flow of life in the takeaway as the bones of the story, pointing out its significance in the history of British fast food, and explaining how the hybrid Cantonese served in Chinese chippies came to be, and why it was so different to the much healthier and tastier food they eat as a family. She shares recipes as she goes along. I will be re-listening next time I fancy some egg-fried rice as mine is invariably rubbish.
I loved hearing Hui's story. She says she is keen to open up the discussion about takeaways and families such as hers, who grew up feeding Britain without really being accepted here. I would have liked some more empirical stuff in there about the Chinese community who set up these restaurants, too - Hui's family lived near to her father's brother's family so were not fully isolated in Wales.
Her descriptions of food should win over any reader. I thought of nothing but dim sum for days after listening. During the listen I ordered in from our local Cantonese, which has been recommended by many (also promoted by the spring roll episode on bake off) and booked to go to London for a Chinese New Year feast.