The Unexpected Joy of Being Sober, Catherine Gray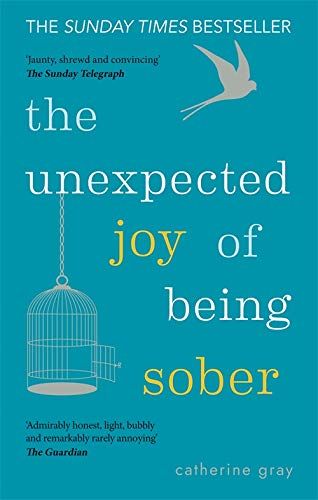 I absolutely loved this sober memoir from Catherine Gray. It feels like one of the first of the genre - it was published in 2017 - but from my dabblings in the sobriety lit field I realise that being sober and talking about it wasn't invented by former Ladettes, but women can talk more freely about alcoholism and sobriety in the 21st century. Gray's experience is obviously shared by many as the book is a Sunday Times bestseller.
Her story is one I've heard before and know well through personal experience. In short, ambitious media career plus general chaos and a shit tonne of booze does not for a happy life make. I listened to The Unexpected Joy of Being Sober while painting my old Warren Evans bed on the lawn on a searingly hot July day, the 2022 heatwave. It was the first bed I bought for myself. My first double bed. And while it's been the spare for several years now, carried me through over a decade of drinking binges and blackouts.

Gray's story is as sharp as that first Tom Collins. While her confessions feel honest, they don't feel melodramatic or self-pitying. Her direct approach is refreshing. As I've said, sobriety memoirs aren't new, but the (at times evangelical) angle that you gain a new and better life by giving up alcohol or other addictions, rather than surrendering to a future of morning ritual and drab meetings, is a refreshing approach. Gray describes herself as "a million times happier sober than I ever had been while drinking. As were the hundreds of sober pals I picked up along the way. I found myself with dozens more hours in the week, heaps more energy, £20K more money over three and a half years, deepened friendships, revived family relationships, better skin, a tighter body, tanned legs for the first time ever, the ability to sleep for eight uninterrupted hours, a bone-deep sense of well-being, a totally turned-around positive outlook and an infinitely more successful career. What's not to like?!'
As well as the large numbers of heavy-drinking women who are turning their backs on large glasses of Sauvignon Blanc and double G&Ts, there's a thriving movement of Millennials and Gen-Zers who are re-evaluating their relationship with alcohol before it becomes a problem. I'd recommend this book to both camps. It's a great read as well as an important warning, and is flush with information on alcohol that almost everyone has been complicit in keeping from drinkers, forever.
It's great to see that Gray has gone on to publish more 'Unexpected Joy of..' books, and I'm sure this one has saved many a vodka-sodden soul in its five years.
I listened on Audible and Catherine narrates the audiobook herself