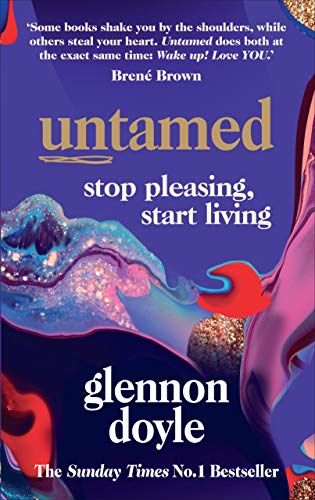 I spent most of winter 2020-21 listening to Glennon Doyle, something I had never expected. But when you know, you know.
A few years ago, I didn't know. I had heard about her book, Untamed, the story of her own mid-life awakening and a guide for women who are ready to 'untame' themselves from the many binds of the patriarchy. But it sounded a bit, well, basic, to wise ol' me. Her oft repeated story of the cowering cheetah at the zoo seemed pretty uninspiring. Not exactly groundbreaking. But now I'm fully here for it, absolutely ready to step into my cheetah era - of course I'd roll over for a tummy tickle from Glennon no question.
I'm not sure why. I don't feel like it was in desperation or even a strong need. Perhaps I was just ready. We were renting in Margate while our house was fixed up (we're now entering month eight of a four month job, and this morning I had my first how shower in my own home since October) and Penny and I walked past Hartsdown Park and Arlington House to the Main Sands most days, often stopping at the sundeck for a coffee from Garage, sitting on the edge of the tidal pool and watching the progression of the Sam Mendes film being shot there over the winter.
I listened to Glennon's podcast first. She hosts We Can Do Hard Things with 'Sister' Amanda and her wife Abby Wambach, former US football star. They tackle anything and everything. Their guests are wide-ranging and interesting, sometimes too offbeat even for me. I've learnt a lot and Glennon's voice, which I once found shrill, now comforts me. I love how endearing Abby is, how honest and eager to learn, how much she adores Glennon.
It took a few months to catch up on all of the twice-weekly episodes and when I finished them all I needed the book. On occasion I find Glennon too accepting, by which I mean too ready to embrace anyone's outlook because she wants to be inclusive, but there are few people doing the work she's doing in this field, talking to a huge swell of people about some really niche and troubling issues. She is standing up for gay rights and trans rights and women's rights and families and children facing hardship and dislocation across America. When there's a crisis, she'll motivate her followers to raise hundreds of thousands. When they bring this Roe vs Wade fight, you know she'll be there right at the front.
If more people listened to her - more people who think she's not for them - the world would be a much better place. She's very funny, too. And I'm envious she is confident enough to never respond to messages, but I also can't quite accept it.