The wildly popular 'Stick Song' is credited with getting young dancers moving – and their parents, too. Sophie Morris looks at the genesis of the baby rave craze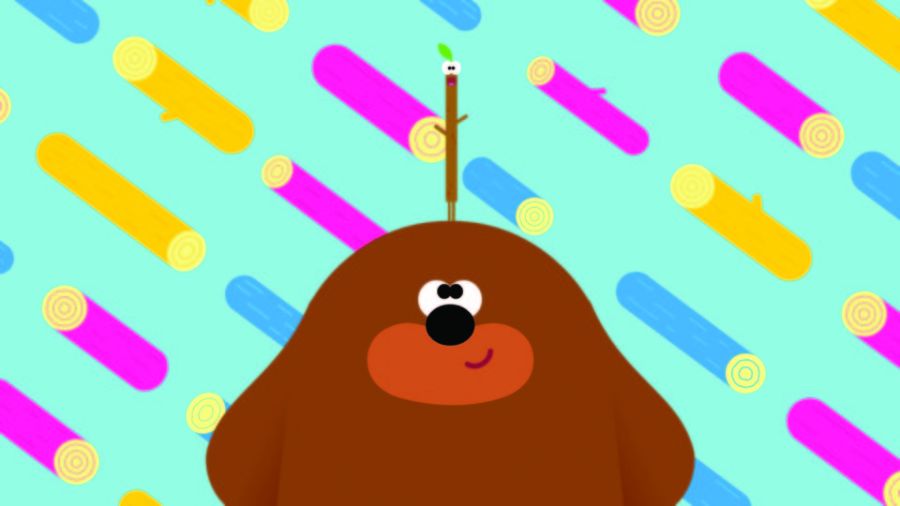 'Hey Duggee: The Stick Badge and Other Stories' is out now on DVD (£4.99)
One Saturday earlier this month, 1,800 clubbers gathered at the Ministry of Sound in south London to experience a one-off line-up. In addition to the usual renowned DJs and impressive light displays, there were live stage performances, a UV tattoo parlour and, when it was time to reveal the headline act on Ministry's famed big screen, a giant plush dog spinning the decks while a raving stick insect bounced around to its eponymous anthem: "Stick stick stick stick stick stick stick stick stick stick stick stick sticky sticky stickstick."
This is the dawn of the miniclubber; no folk songs or nursery rhymes are allowed, and Old Mother Hubbard is definitely not on the guest list.
The recent event, which took place in two sessions at £25 a pop - much more expensive per minute than a grown-ups' club night - was a Rave-a-Roo event, one of a number of dance events that have emerged to cater for parents desperate for some bass. And this year's anthem, "The Stick Song", has had all generations reaching for the glow sticks.
Mumsnetters called for it to be the Christmas No 1, the clip has been viewed more than five million times and a retailer is in talks about launching a "Stick Song" clothing line - all this from one track in a single episode of the CBeebies show Hey Duggee, an animation narrated by Alexander Armstrong.
The show has received high praise from a variety of fans. "Hey Duggee's songs are getting so many young people moving that the soundtrack has even made its way on to BBC Radio 6 Music. Even if you weren't in a gravel pit with a big speaker in 1989, we think you'll like this," said Evan Davis, when he closed an episode of BBC Newsnight with the track. Comedian Dara Ó Briain tweeted: "The telly show of the year is Hey Duggee. I will accept no argument about this."
"It was created as a bit of fun," explains the series' executive producer, Sue Goffe. "Who knew that saying stick in a number of ways was going to have such an impact? It's great that it has been so well received. It's just silly, fun and unexpected, and seeing all the videos people post of their kids dancing around and going nuts is kind of the whole idea behind the show - to get kids up and active."
Sander Jones, the show's animation director, is responsible for the song, says Goffe. "It was actually his partner, Diggy's, idea and they wrote it together. They have two young kids who are obsessed with the show, and one day their eldest boy, who is two, picked up a stick and demanded that it talked. Unfortunately, there wasn't a rave to follow but that was theoriginal seed of the idea. The stick song came from Diggy - apparently inspired by rave nostalgia, back in the days before parenthood."
Hey Duggee, created by Grant Orchard of Studio AKA, takes place at The Squirrel Club, where a friendly giant dog, Duggee, helps the children at the club to have all sorts of fun. At the same time, they learn life skills such as being responsible, working as a team, and even taking some risks. Each week, the children earn a badge for their exploits.
In the episode "Hey Duggee: The Stick Badge", Duggee and the Squirrels are preparing a campfire when one of the children, Roly, finds that one of his sticks is in fact a talking stickinsect, who begins to say "stick" repeatedly.
The stick chant is joined by some music and the story descends into a joyful rave. Theepisode premiered on CBeebies in December and is released on DVD this week. Ravea-Roo launched 18 months ago and its founders, Jenny Kane and Ellie Carter, approached the BBC to work Hey Duggee into their shows and to develop an interactive version of "The StickSong".
They're not alone in the family rave environment. Big Fish Little Fish celebrates its fifth birthday this year and has entertained 150,000 baby ravers in the UK and Australia, at locations including Glastonbury and Camp Bestival. On Sunday, it held an event celebrating 30 years of acid house, and this weekend it pops up at Margate's Dreamland for a Camp Bestival event.
Cross-generational appeal is the key to keeping everyone happy. Visually, Hey Duggee is pared-back, with characters created from simple geometric shapes.
"It's a breath of fresh air when something comes on that is funny, bearable and resonates with a wider audience," says Goffe. "Duggee's graphic aesthetic is instantly appealing, and the witty scripts and attention to detail (with a few pop culture references thrown in) seem to have gathered parents along the way. We're very happy about that."
Kane says that while it's great to see happy children at her Ravea-Roo events, seeing happy parents can be even more rewarding. She adds: "One mother came up to me and said she felt like she'd been brought back to life."
Who knew saying stick in a number of ways was going to have such an impact?