It's been almost 20 years since Ikea encouraged us to ditch elaborate furnishings. But now the spirit of 80s Laura Ashley is making a floral comeback – with a minimalist flavour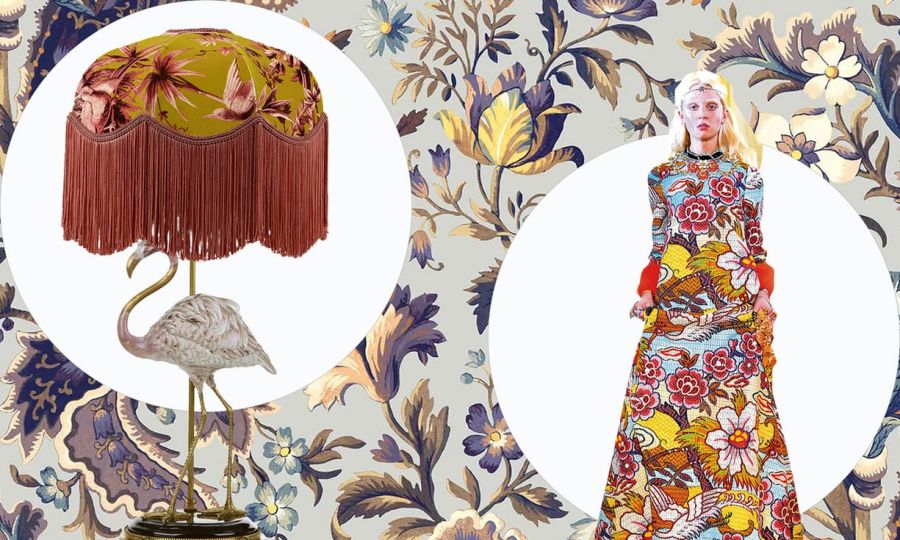 House of Hackney furnishings and a Gucci model. Guardian Design Team
"All hail
the
new chintz" announced
the
luxury (and certifiably hip) interiors brand House of Hackney (HoH) last week, describing its new collection as "an assortment of irresistibly chintzy prints and patterns inspired by British country house interiors but seen through kaleidoscopic glasses". A bold claim, given
the
broadly reviled reputation of chintz, not to mention
the
growing ill-feeling between
the
haves with their country houses, and
the
have-nots paying rent through
the
nose.
If you love the decor in The Crown, you're on the right lines. HoH has been dubbed "Colefax and Fowler on acid", a nod to the chintz-loving establishment designers who worked at Buckingham Palace and Chequers.
"We've been very much inspired by chintz since the beginning. Now we've been brave enough to talk about it, to publicise it, and to declare our love for it," laughs Frieda Gormley, who launched HoH with her husband Javvy M Royle in 2011.
It's almost 20 years since IKEA ran its "chuck out your chintz" ad, which encouraged young homeowners to throw out their parents' outmoded furnishings and embrace a pared-back Scandi aesthetic. "Our strategy was to change British taste in five years," Naresh Ramchandani, the man behind the ad has since said.
Now we're seeing anti-minimalism – people are calling it maximalism – and the new HoH collection includes flourishes of feathery pampas grass, weeping willow and paisley, updated in shades of lilac, ochre, tobacco and teal – chintz for a new generation.
I'm too young to remember chintz first time round. Remind me.
Historically, chintz was woodblock-printed or painted calico in floral designs from India. It was so popular in France and England that by the late 17th century, both countries tried to ban imports to protect their own mills. "For people like myself who grew up in the 80s surrounded by Laura Ashley – a lot of chintz – this feels like a very modern take on it, but also nicely nostalgic," says Gormley.
So why do people hate it so much?
The look was overexposed. Think heavy floral curtains, oversized frilly pelmets, headache-inducing patterned wallpapers, and everything in a dry palette of matchy-matchy blue and yellow.
I've been focusing on
the
slick Scandi look. Can I work chintz in?
Despite the exuberance of HoH, Gormley insists its ethos is minimalist living: buy well, don't throw things away, and there's no need to stick to one particular look. Anyway, at £90 for a small cushion, you won't be changing this look as often as your toothbrush.
At what point does chintz become kitsch?
HoH's acid-bright pinks and yellows certainly tread the line between garishly kitsch and good taste, and it loves to mix florals with leopard print, but you'll also find chintz on the catwalk (see Alessandro Michele at Gucci) and all over the high street. Expect to see it next in your own living room.