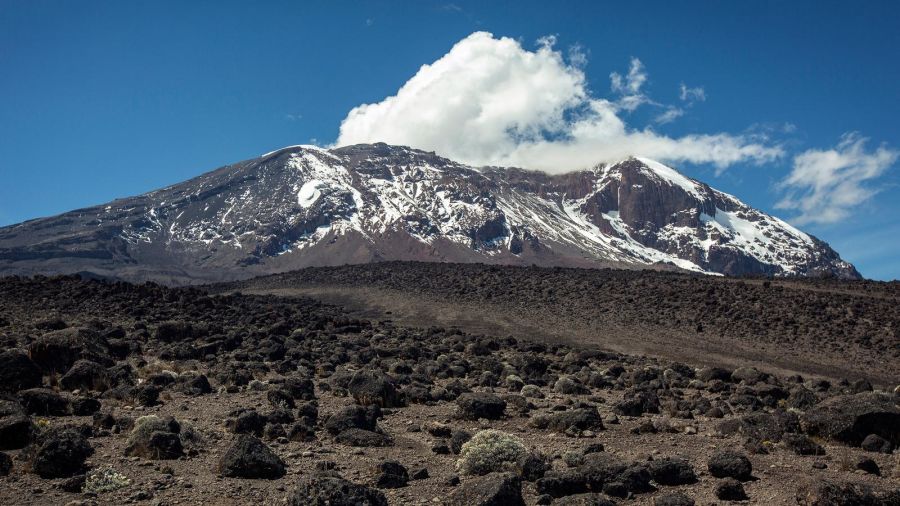 Watching the sun rise over Africa from the continent's highest point is an awesome exp erience. A thick orange stripe creeps over the distant horizon, smooth on its underside and blazing on top. Below it, the wildebeest of the Serengeti stretch and shake off the freezing temperatures of the previous night. It's migration time and they still have hundreds of miles left to cover.
Reaching the top of Mount Kilimanjaro in Tanzania - which, at 5,895 metres, is the world's highest free-standing mountain and Africa's loftiest peak - is a bit of a slog. After four days of steady ascent, we climb to the summit through the night in temperatures of -30°C.
I am too tired to take pictures of the occasion. Around me, friends are vomiting; several seem to have aged ten years overnight; one, his brain starved of oxygen at this tremendous altitude, has forgotten his own name. Still, as I contemplate Africa unfurling all around me, it has undoubtedly been worth the effort.
As we turn to begin the descent, our eyes now squinting in the bright sun that is bouncing off the fresh snow, an odd form lumbers up and over the summit. It's one of the Korean men, enthroned in a smart sedan chair, whose group has been following the Marangu route up the mountain at the same pace as we have. The chair is being carried by two Tanzanian porters, breaking their backs so that their passenger can conquer the final 1,200 metres from Kibo Hut, at the base of Kilimanjaro's craggy, glacier-topped crater, to the summit at Uhuru Peak.
All sorts of prices are paid in order that foreign tourists such as myself can conquer Kili. The kit I am wearing, all seven layers of it, probably cost more than the trip itself. The New Statesmancolumnist Mark Lynas would no doubt argue that I should have stayed put in London altogether, given the double-whammy carbon footprint of flying the 4,000 miles to Africa and then stamping my eco-threatening tracks all over Kilimanjaro's fast-retreating glacier. In my defence, I have come out here with the charity Voluntary Service Overseas (VSO) to raise money for a HIV clinic in Nairobi.
While acute mountain sickness has claimed the lives of about 30 climbers over the past decade, the highest price is borne by the res ilient guides and porters who accompany the foreigners on their trips, of whom between 15 and 20 die in any one year.
Before I left the UK, a somewhat sadistic friend had directed me towards Dave Eggers's story "Up the Mountain Coming Down Slowly". In it, Rita, a young American woman who has been persuaded by her sister to undertake the challenge, realises with her first step on the mountain that she has no idea why she is there.
Before Rita's arrival, her goal has been simply to get up and down the mountain as quickly as possible and on to a beach in Zanzibar, cocktail in hand. Some rigorous introspection follows, redolent of Ernest Hemingway's "The Snows of Kilimanjaro", and painful events from her recent past are revealed. As the slippery western guide leads her onward, paying little attention to the physical safety of his group or the welfare of his Tan zanian porters, Rita begins to reflect on the significance of the mountain itself, and the life on and around it.
VSO employed local guides to take us to the summit. Their measured, "pole pole" (slowly, slowly) approach takes nearly everyone in our group of 40 to the top of Kilimanjaro, an outstanding success rate, considering the 40 per cent norm. After several years' hard labour as porters, those with a good grasp of English and a personable manner have a chance of being promoted. As guides, they can spend their days pointing out the other-worldly senecio trees, shaped like immense artichoke globes on pitchfork trunks, and exchanging bits of Swahili for the latest footie news.
Meanwhile, the porters shoulder 20 kilogram loads which, before a charity stepped in with regulations a few years back, might have weighed up to 40 kilos. You can distinguish porters from guides by what they are wearing - most guides are kitted out in branded walking jackets and hiking boots; the porters get by in old trainers and an extra jumper.
Climbing repeatedly to this altitude takes its toll, however fancy your kit. William is 34 years old. Life expectancy in Tanzania is under 50, so his days as a guide are numbered. He is trying to raise the money to open a garage, but his savings usually disappear during the low season when work is scarce. But at least he does have work. I sneakily watch one porter open his wage packet at the end of the week: for the six-day trip, he has made about $60, including tips. This is a good wage in Tanzania. He'll probably have two nights and a day with his family before returning for another trek to the summit.
The more we climb the mountain, the more its ecosystems suffer, but if the tourists stopped coming, these porters would have no work and Tanzania's tourism industry, the country's economic backbone, would suffer. Likewise, if VSO did not organise these charity challenges, it would have little to spend on sending skilled workers to help communities all around the developing world.
We descend over scree at mid-morning and the rubble, no longer frozen, gives way rapidly beneath every step. The mountain literally drops away underfoot as I lose altitude. The climb it-self has been spectacular and I descend from the mountain very slowly, reluctant to leave it behind. As we near the park gates, a tiny boy pops out of the bushes, proffering an iridescent lizard on a stick for photographs. Our guide patiently explains to both parties why we must walk on: if the route is lined with people begging, the mountain will get a bad name and the tourists will stop coming. Despite its huge bulk, somehow there isn't quite space for everyone on the slopes of Kilimanjaro.
To find out more about VSO's charity challenges visit http://www.vso.org.uk