It ticks all the boxes for sustainability, versatility, looks and durability - and is fast becoming a favourite for designers, says Sophie Morris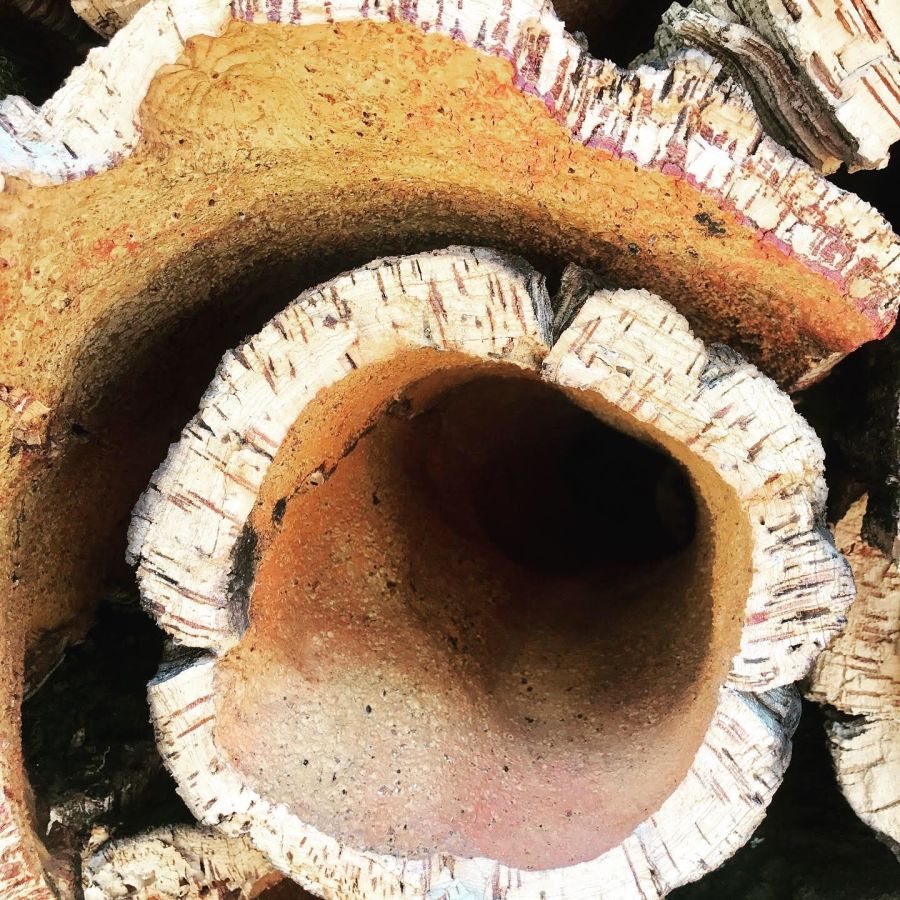 Cork in the hills of the Algarve
If the words "cork floor" makes you think "shiny, orange, not for me", the 21st-century approach to cork interiors will surprise you. Like many natural materials which remind us of the great outdoors, cork is making a comeback.
In recent years cork floors have been laid in major public spaces, such as Tate Modern in London, where the floor laid by the Danish collective Superflex was the world's largest ever cork installation. And London's Serpentine Pavilion's sunken basement was lined in cork by architects Herzog and de Meuron in 2012, with bottle-stopper shaped stools for visitors to perch on.
The trend is moving out of the art world and into our homes while breaking out of the confines of the classic cork pinboard. But you can forget kitsch 1970s colours. Cork in softer, natural tones as well as washes of white and grey has arrived. Like rattan, wicker and bamboo, cork offers a pleasingly textured appearance. But it works as hard as wood - don't forget, it grows on trees.
Cork coasters, placemats and jar stoppers are all popular, and proved a sell-out for an Ikea collection designed by Ilse Crawford. This summer a new type of cork floor has been made pos-sible by a sustainable approach to manufacturing. The Corka flooring from the Colour Flooring Company is the first ever 100 per cent cork, waterproof, floating flooring. It's a significant improvement on traditional cork floors - typically made from highdensity fibreboard sandwiched between cork layers - and is available in grey, charcoal, two shades of white and two natural finishes.
"The new technology makes it not just carbon-neutral but carbon-negative," says Lena Corner, one of the Colour Flooring Company's founders. "It is a 21st century update to an old, ecofriendly and much-loved product and sets a new benchmark for sustainability."
Corka is made in a factory owned by Amorim, the world's largest cork manufacturer, in northern Portugal. Cork is a major industry in this area of the world, employing 35,000 in the Iberian Peninsula alone and 100,000 across Spain, Portugal, Italy, Algeria, Morocco and Tunisia. Portugal produces around 157,000 tonnes a year, half the global output. It also requires highly skilled workers, and cork harvesters are the best paid agricultural workers in Portugal.
Since the decimation of the cork bottle-stopper market, producers have been forced to diversify. Now you get all sorts of cork products, from handbags and shoes to hats and homewares. If you've ever owned a pair of Birkenstocks you'll know the importance of a cork sole. Less well known is that it is an indispensable material in spacecraft, because of its thermal-insulating qualities. A thin coating of cork compound on the nose and other parts of the propulsion rockets prevents the spread of flames as the rockets are subjected to temperatures exceeding 1,000°C during launch.
The oak forests that stretch across Portugal are one of the country's greatest assets and the process of maintaining them is vital to the health of both industry and environment.
Once a cork oak tree is planted, it is left to grow for 25 years before the bark is stripped to give us cork. The tree is not felled though, as it would be to harvest other types of woods, but is stripped once every nine to 12 years.
Only after the third stripping does the cork have the necessary qualities needed for a wine cork. Cork wine bottle stoppers fell out of favour because of fears about contamination as well as misinformation about wasting finite resources. Cork oaks are maintained to support the industry - and designers are returning to the product precisely because of its eco-credentials and versatility.
Lena Corner insists the process is a win-win for the environment and for domestic use. Up to five times more carbon dioxide is captured by the trees than is used to manufacture the cork tiles, she explains. They are easy to use and can be laid on top of existing flooring, clicking into place without glue or varnish and guaranteed for a lifetime of domestic use. Cork also has great insulating properties and absorbs sound very effectively.
As a material it is such an outstanding all-rounder, as well as ticking sustainability boxes, that a whole house built from cork has been brought into the spotlight through its nomination for this year's prestigious Riba Stirling Prize, awarded by the Royal Institute of British Architects, to one building a year. The onestory house in Eton, Berkshire, has a honeycomb-shaped roof, all built from blocks produced from byproducts of cork forestry. Its walls are made of giant dryjointed interlocking blocks of expanded cork. The fittings and furniture are made of cork as is - of course - the floor.