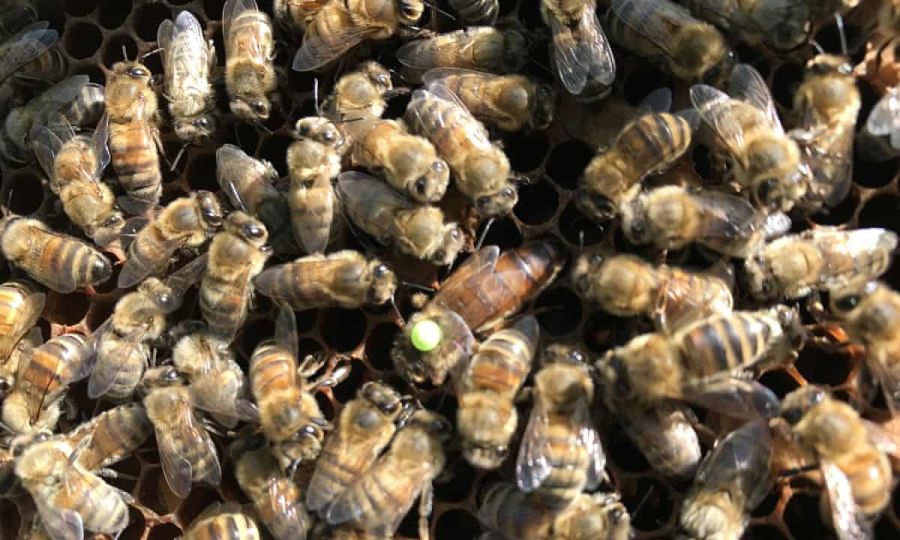 Richard Searle/GuardianWitness
What getaway car would suit the theft of 1m bees? Oxfordshire police have been pondering this very question since last week, when they were called to investigate the biggest ever bee theft in the UK. Forty hives, each home to around 25,000 bees, were taken from a family-run business, Beekeeper Honey. Bee thefts have been growing over the past decade, which an industry spokesperson has blamed on rivalry between beekeepers. The owners of Beekeeper Honey in Brackley say the hives could produce 12,000lb (5,500kg) of honey over the year, and moving them would have required expert knowledge.
Here are five other farm heists: Bovine bother Cow rustling didn't die out with the Dandy. In 2016, a New Zealand farmer suffered the largest cow theft the country has ever seen, when 500 cows disappeared from his milking herd of 1,300 on South Island. New Zealand is home to around 10 million cows - twice its human population - but the dairy industry said the NZ$1m (£530,000) theft wasn't taken seriously. The cows were most likely stolen a few at a time over a number of months.
Pine in the neck After poor harvests, pine nut prices rocketed in 2015, leading to a chain of thefts from factories, and one gang managed to drive off with £300,000 of the tiny kernels - seven tonnes. Wholesale prices had climbed to £40/kg, and supermarkets were even tagging jars of pesto with antitheft devices.
Fruit salad No one likes to be caught redhanded, but that's just the trap one Jamaican farmer set for her adversaries after a spate of banana thefts in 2013. She spraypainted her bananas red, an approach the Ministry of Agriculture confirmed was safe, and the thieves stayed away. At the time, bananas were selling for a premium after Hurricane Sandy had wiped out much of the crop the previous October.
Corn bawl D 'tdi i Don't dismiss farm heists as local crimes for local people. In 2013, the FBI accused two Chinese companies of industrial espionage for stealing seeds from US agricultural businesses. In 2016, one of the "corn crawlers", Mo Hailong, was sentenced to three years in jail for stealing expensively produced hybrid seeds from Monsanto and DuPont.
Security gourds needed Some thefts need brains, others brawn. When Halloween fanatics decided to steal a 300lb pumpkin from an Illinois farm in 2012, they would have needed a tractor, a pallet and a truck, said the giant pumpkin's owner, who was stumped by its disappearance.