The Turner Prize-winner Gillian Wearing tells Sophie Morris how she found inspiration in the supermodel Lily Cole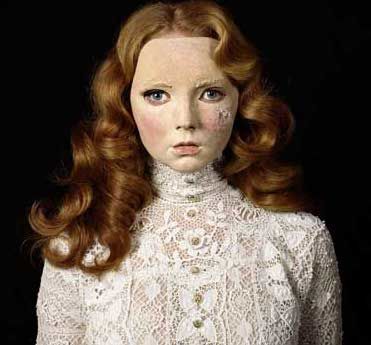 Most photographers given the chance to create a portrait of the model Lily Cole, freed from the strictures of deploying her as a high fashion clothes horse, would search out ways to emphasise her unusual beauty.
Cole's thick red hair, huge eyes and tiny bud of a mouth place her somewhere between one of Charles Kingsley's water babies and a Japanese Manga heroine, but the artist and Turner Prize-winner Gillian Wearing chose to hide Cole's china doll-delicate features behind a mask. "I always thought she had the ideal face for a mask," explains Wearing. "She is quite doll-like, and you think of a mask as being perfect, like a doll is." After taking the cast of Cole's face and dressing the model in a Victorian lace shirt for the photo shoot, Wearing damaged the mask, sullying Cole's perfectly smooth, freckled alabaster skin and exposing her fragility. "It's quite touching," she says of the finished work, "but also quite frightening." Wearingdescribes Cole as "very intelligent and very quick". The pair met several times to make the portrait, to discuss the idea and to take several casts of Cole's face. f
The photographs themselves took a whole day and several costume changes, but being a professional, Cole executed her part with ease - a far cry from the subjects of Wearing's2000 film Drunk , a group of alcoholics whom she welcomed into her studio and filmed over a period of time, recording how they lost their inhibitions.
Like Cole, Wearing is doll- like, but her frame is tiny in comparison to the tall model. On the evening we meet it is hidden in a white padded jacket with an enormous furtrimmed hood. She is dwarfed by the high ceilings of her east London studio, all clean white, chrome and concrete lines and free from clutter of any type. Apart from the kettle, the only sign someone even works here is the neatly stacked bookshelf lining one wall and a row of Apple Macs under a long low window. Wearing has a history with masks and has worn them herself on numerous occasions. She first cast her own face in 2000 and in 2003 she transformed herself into different members of her own family for a series called Album . Last year she disguised herself as the American photographer Diane Arbus, one of her greatest inspirations. " Wearing masks gives you a sense of liberation," she explains. " You can bemuch more playful behind them." Wearing becomes most animated when discussing the one Arbus print she owns, a gift from her gallerist Maureen Paley. " She's an amazing photographer with brilliant ideas," she says. By creating this Lily Cole edition, she is enabling her fans to own a piece of her work for a few hundred pounds ( Wearing's one- off pieces usually sell for £ 10,000- £ 50,000), and making her art available to a wider audience.
Masks allow for the subversion of conventional expectations and assumptions. This is a particular concern ofWearing's, borne out by the early- Nineties work which made her name in the art world - Signs That Say What You Want Them To Say and Not Signs That Say What Someone ElseWantsYou To Say - inwhich she photographed members of the public holding up cardboard signs admitting something a camera alone cannot pick up. " I'm desperate," says one, owned by the Tate. " I have been certified as mildly insane!" reads another.
The excruciating honesty of the photographs makes anyone reading the sign feel an immediate intimacy with the subject. A decade ago, when Wearing's work first became widely known following the Turner Prize, she complained about a Volkswagen commercial which had clearly copied her idea - but it has since taken on a life of its own online which she cannot control. " It was one of those instant ideas that a lot of people found they were captivated by," she says. " It's just one of those things that is obviously very appealing, but I just thought someone could have rung up and asked in the first place." The impact of this breathtakingly simple series of photographs remains powerful 15 years on - evidenced most recently in a website set up by Icelanders in protest at Gordon Brown, who had invoked anti- terror laws to freeze the assets of an Icelandic bank and ensure British savers did not lose their £ 4bn deposits. " Gordon Brown We Are Not Terrorists," says one, held up by a father and his two sons, all wearing football shirts.
The public has not always been so quick to click with her ideas, though. When she won the Turner Prize in 1997 with her video work 60 Minutes Silence , a film of 26 police officers trying to keep still for the camera for an hour ( the work looked like a photograph at first glance), the media debate about the " value" of conceptual contemporary art was in full flow. " In those days the tabloid attention towards the Turner Prizewas huge," she remembers. " It was all about creating headlines to get everybody's backs up about contemporary art." But she isn't bitter; in fact she realises that the exposure changed our perception of art, predominantly for the better.
Wearing had studied art at Goldsmiths College in the late Eighties - just like Damien Hirst, Tracey Emin, Sarah Lucas, Rachel Whiteread and many others who later became successful artists - but she was not part of Charles Saatchi's original Young British Artists shows, which pushed this generation into the public eye. " The more the public became intrigued by the art, the more they became used to it. I don't think artists themselves really change over the centuries, and the people described asYBAs did disparate work, there was no movement. But something changed in the make- up of art in this country." Tate Modern itself is proof of how quickly attitudes can change. When Wearing won the Turner Prize, the former power station on the South Bank was still an empty shell.
Now almost nine years old, it is considered one of Britain's establishment art destinations, and a residential and commercial community has sprung up around it.
Wearing says she didn't hang out with Hirst, Emin, Lucas et al at Goldsmiths, not even Michael Landy, the artist best known for throwing away all of his belongings, and her partner for 12 years. She didn't begin experimenting with the photographic and filmic work which became her focus until after she had left college, and at first suspected it might lead her towards a career in television.
Wearing has often referred to the impact that watching documentaries such as 7- Up and The Family in the 1970s has had on her work. " It might be boring to read the same thing over and again, but it's the truth," she smiles, exhibiting the same apparently uncomplicated honesty she demands of her subjects.
'It's quite touching, but also quite frightening'