A new set of gender-breaking models immortalises the female heroes of Nasa. By Sophie Morris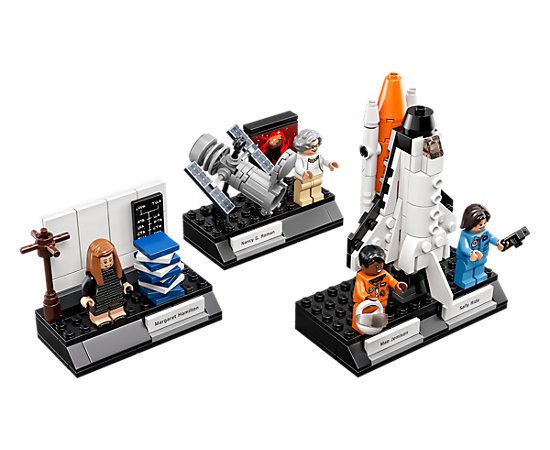 The computer scientist Margaret Hamilton is modelled with a stack of books, representing the onboard flight software for the Apollo missions. Nasa astronauts Mae Jemison and Sally Ride are immortalised in Lego with a launch pad and space shuttle 'Challenger'
When the film Hidden Figures was released last year, cinemagoers were blown away by its story of three black women working at Nasa in the 1960s, who were instrumental in the great space race. America ultimately beat its close rival, the USSR, to land the first man on the Moon, but it would not have been possible without Katherine Johnson, Mary Vaughan and Mary Jackson, two mathematicians and an engineer who fought racial and gender prejudice to emerge as pioneers in space travel and human rights.
It was these women who last year inspired Maia Weinstock to submit an unusual concept to Lego Ideas, a crowdsourcing platform that accepts suggestions for possible Lego sets from fans. Weinstock, a science editor and writer, suggested a Lego set that celebrated women in Stem professions (science, technology, engineering and mathematics), by immortalising the Nasa women in plastic. With 10,000 votes, her idea got the green light and is available to buy this week.
Weinstock says: "In all realms of science, engineering and technology, pioneering women have historically been underappreciated for their often groundbreaking work. We have also seen that when girls and women are given more encouragement in the Stem fields, they become more likely to pursue careers in these areas.
"With this project, I wanted to spotlight a fantastic group of women who have made seminal contributions to Nasa history. My dream would be to know that the first human on Mars - or an engineer or computer scientist who helped her get there - played with the Lego Women of Nasa as a child and was inspired to pursue a Stem career as a result."
Although she pitched the idea hoping to include Katherine Johnson, who is now 99 and one of Nasa's most famous employees, Johnson declined the offer to become a miniature play figure.
The Women of Nasa set does, however, include four inspiring female employees, and three "builds" which illustrate their areas of expertise. There are two astronauts, Sally Ride and Mae Jemison, who come with a launch pad and the space shuttle Challenger; the astronomer Nancy Grace Roman who comes with a Hubble space telescope; and computer scientist Margaret Hamilton, who has been modelled with a stack of books, representing the Apollo guidance computer onboard flight software source code. The set is aimed at children aged 10 and over and costs £19.99.
There are 18 Lego Ideas concepts that have been made into actual sets since 2014. And there is one other, Research Institute, that also features three women scientists, a palaeontologist, a chemist and an astronomer, all modelled in their workplaces. But the Nasa set is the first based on real people. Because production of these sets is limited, Research Institute is now available on eBay priced from £35 to £93.
A Lego fan who blogs about the toy at Jay's Brick Blog has pointed out that when a great set like this comes out, it needs to be as widely available as possible. "Especially with all the media frenzy surrounding the Research Institute. Lego needs to address the scarcity of sets and prevent their toys from becoming commodity products only available to a select few."
Lego bricks have been available in their present form since 1958, and though the company is known for its inclusive approach to play, over the years the company has released various lines aimed at girls. In 2012, it launched Lego Friends, a line targeted at girls aged 5-8, which is sold in purple boxes and include a frozen yoghurt shop, a cup-cake café, a horse trailer, puppy daycare centre and a supermarket. Can one set showing women who aren't shopping, cooking or grooming animals stem the tide of "pink", gendered toys that are increasingly irritating consumers? "As a company we are dedicated to inspire and develop all children, and we do so in many ways," says a Lego spokesman. "Our most important role is to bring creative play to children - and across the product ranges we feature strong role models - be it strong characters in different play themes to real-life persons like in the Lego Ideas set in question."
"We would always urge Lego to make their toys for all children, and not separate out LegoFriends as if it's not a construction toy," says Tricia Lowther, campaigner and spokeswoman for Let Toys be Toys, an organisation speaking out against the way toys are sold to either boys or girls. "We'd like to see all the Lego toys in one aisle in toy shops and in one section of toy catalogues. We'd also like to see a better balance of male and female mini figures across the Lego range."
"It's often the way that toys are marketed and packaged that sends out gendered messages, rather than the toys themselves," Lowther continues. "It's difficult to measure the impact one small set may make, but children can only play with one toy at a time, so even a small set is a positive and welcome step."