Sophie Morris heads to Rio de Janeiro to help the children of the favelas surf their way out of the ghetto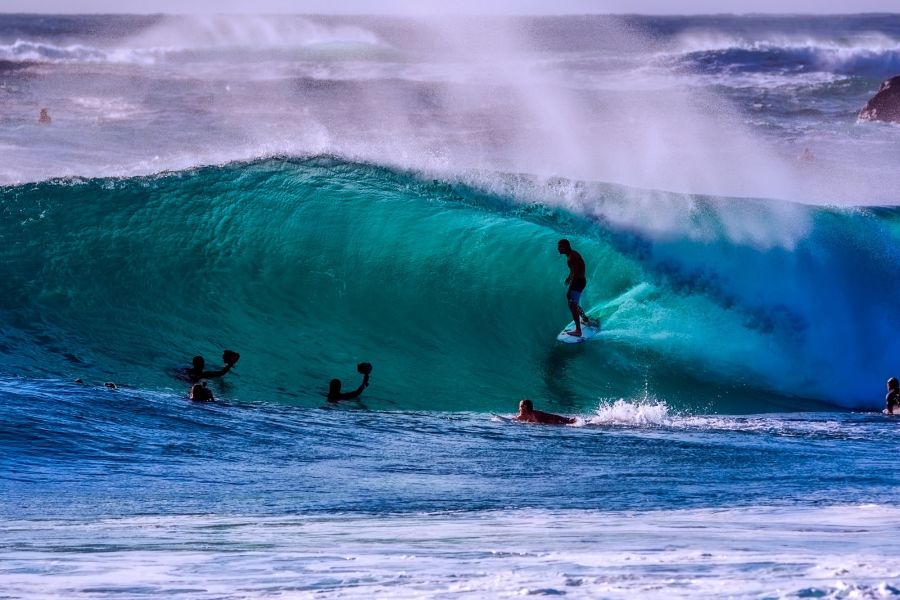 pixabay.com
13 August 2007
When I arrive at the i-to-i house in Rio de Janeiro, I spot a few worrying similarities to this year's Big Brother house. There are around 15 excitable girls, just one guy, and a hot tub on the terrace. But these housemates are not searching for fame - far from it. They have chosen to spend some precious time pre-, post- and in between education doing voluntary work in Brazil. The hot tub, alas, turns out to be empty, to conserve water.

The volunteers are all working with Cariocas, as Rio's inhabitants are known, who live in the city's favelas - impoverished neighbourhoods that the 2003 film City of God portrayed as charmless drug territories, plagued by gang warfare.
City of God flashes hu-manity's mucky underbelly onto the big screen. During their time here volunteers juggle English teaching with keeping the children of the favelas entertained and out of trouble.
Music and football are the obvious routes out of the ghetto, but the narrator of City of God finds his salvation in photography. I'm in Rio to see how surfing this cidade maravilhosa's enviable waves can raise a child's expectations and divert attention from gangs, drugs and alcohol.
Rio's favelas sit cheek by jowl with the city's richest neighbourhoods, which means all the maids, gardeners and security men don't have far to travel to work. The smartest districts, Copacabana and Ipanema, front the eponymous beaches. Today, Brazil is the world's eighth largest economy, yet 49 per cent of that wealth is enjoyed by just one per cent of the population.
Jorge Luis Todaro has un-dertaken, through his surf school, the commendable task of bridging that gulf.
At 8am on a gusty Monday morning in Rio's winter, Todaro does not expect many children to turn up to class.
"In summer we have up to 80 students, but many of them live on the top of the hill and it's cold when they wake up so they don't come down to the beach," he explains. If they do make it, they are rewarded with breakfast, which is often not provided at home.
Todaro works with a few professional surfers and his son, Pedro. He owns a surf shop on Niterói, a small island linked to Rio by a road bridge, and has run several similar projects before, but each was funded by a prospective politician, who cut the finance when he failed to win office. This time the money seems secure and Todaro has been welcoming i-to-i volunteers to the school since January.
"A n o t h e r person always adds something to the work," Todaro says. "In the summer there are lots of kids and everyone sits on the floor for an English class.
It's good for them to learn basic words to help with the surfing, like 'stand up!', 'wave' and 'surfboard'."
Inevitably some of the children are shy at first, and also a little wary of one another, as the favela children are mixed in with paying Brazilians and tourists. The basic and fun English class puts everyone at ease. And once they strip down to their swimsuits, there is little indication of who woke up in a draughty shack this morning, and who arose in a carpeted hotel suite.
I wonder how novice surfers with little or no Portuguese would be helpful on this project, but it becomes clear immediately that it is up to volunteers to make themselves useful. Can't speak Portuguese? Exchange your English for some basic vocab from the kids. Never seen a surfboard before? Lead the warm-ups and entertain the students with games while they wait their turn in the water.
If you're hoping to become a pro yourself in a few weeks, this isn't the place for you. Although every morning the volunteers get time in the water, this project is a slow burner - the school runs three days a week, weather permitting, and different children show up according to when they need to attend regular school. If you stay a month or more you will know them all and be a competent wave catcher, but signing up to a two-week stint is unlikely to satisfy. When I return to the project three weeks after my first visit, I find it has been cancelled completely due to the bad weather. One very disappointed volunteer is spending her three weeks in Rio in a classroom instead of on Ipanema beach.
Many people question the sustainability of the short-term volunteer projects offered by i-to-i, but the company's continuous trickle of willing recruits helps a number of educational and recreational projects to keep their doors open from one month to the next. No one expects you to be the next Mother Teresa; it is enough to be an extra adult who cares enough to spend time with the children. You might not be around to witness the long-term benefits, but Todaro assures me they exist.
"Sport is a healthy thing to do," he says. "It teaches them discipline, but it also teaches them a profession. They will not all become pros but they can work in surf schools and teach."
"What do you want to be when you grow up?" he asks a skinny boy with sun-bleached hair. "Surfista!" he replies instantly.
On my second day, we learn each other's names before a quick prayer - don't let this put you off if you're not religious. The majority of charitable projects across Latin America are funded or run in some way by a church group, but it is unlikely religion will play a large part in the project.
I play some beach games, reprimand three boys for throwing sand at a group of deaf and dumb boys in the class, help construct a complicated network of sand caves and moats, bury little Jean up to his waist in sand and lead Marco around the beach picking up the litter he has dropped, explaining that he won't get a turn in the water if he doesn't do this first. He rewards me with a kiss at the end of class, and demands I come back the next day.
Todaro is accustomed to disciplining the boys. They know they aren't welcome if they don't play by his rules. He finds most of the students the same way: he notices them hanging around sniffing glue.
i-to-i is a huge organisation operating in 23 countries, but its success depends on the in-country coordinator who arranges the work for the volunteers and checks on them during their stay. In Brazil, Luis Felipe Murray manages projects in Rio, up the coast in Salvador and in the Amazon. Murray makes sure each project receives around £100 per volunteer - "enough to buy a surfboard" - out of the few hundred pounds he sees for each person.
Everyone here benefits from the mix of ages and nationalities, particularly the gappers. Even more beneficial is the exposure to a country and a culture far from A-level textbooks, which is exciting, intense and welcoming with a much richer soul than the rotting image shown in City of God. Rio has beaches, mountains, samba and oh-so-cheap pint-sized caipirinhas. On their first night some of the girls find boyfriends. On the second they're at the Live Earth concert on Copacabana beach. The third night is an early one so that they have enough energy to begin work in the morning. Volunteering comes first, partying a close second. Two weeks at the surf school costs £895 excluding flights. For more information, see www.i-to-i.com Surfing safari A South African adventure Newbie gap company Ticket to Ride takes teams of travellers on three-month adventures around South Africa. Surfers (beginners welcome) backpack up the coast from Cape Town, stopping at eight surf hotspots including Coffee Bay and Durban. The deal includes over 60 hours of professional tuition, enough to qualify as a SSA Level 1 surf instructor and lifesaver. When not in the water the gappers get involved in local charitable projects, teaching in schools, townships and on the beach.
These high-adrenaline experiences don't come cheap. 2008 trips, leaving on 7 January, 21 January and 13 September cost £4,850, excluding flights and insurance. Ticket to Ride's first monthlong "minigap" trip leaves on 8 November and costs £1,695. www.ttride.co.uk Dry run Rio without the waves Shadeh Smith, 18, went to Rio from London to spend 10 weeks on a community development project with children. She taught children in two favelas and also had adult classes. She missed the children so much that she flew back from Venezuela a few weeks after leaving.
"This is the first time I have been away from home for such a long time but I loved Rio as soon as I came out of the airport. My first day on the project was a bit daunting as I ended up having to leave the favela after dark and I didn't speak Portuguese. But the kids were all so welcoming and really keen to learn English.
"You can organise your own hours, and as I enjoyed it so much it made sense for me to spend more time in both favelas to get to know the kids. Some people go to their project, teach their class and leave. For me it's been the complete opposite. I've been going early to have breakfast with the mothers and I've made friends who I go out with at night.
"You don't get many breaks living in a favela. As soon as a child is bored problems start to occur, but just talking to them about my life opens their eyes about what they might do with theirs. People give off a really negative image of Rio, but I had a pressing feeling it wasn't as bad as people said it was, which turned out to be true. Anyone can volunteer but you have to prepare yourself beforehand - you have to adapt to get the most out of it."