Everything's on the menu – except politics
The Independent
Miriam Gonzalez Durantez has impressed with her multiple talents during the campaign, but she may soon be consoling her husband, writes Sophie Morris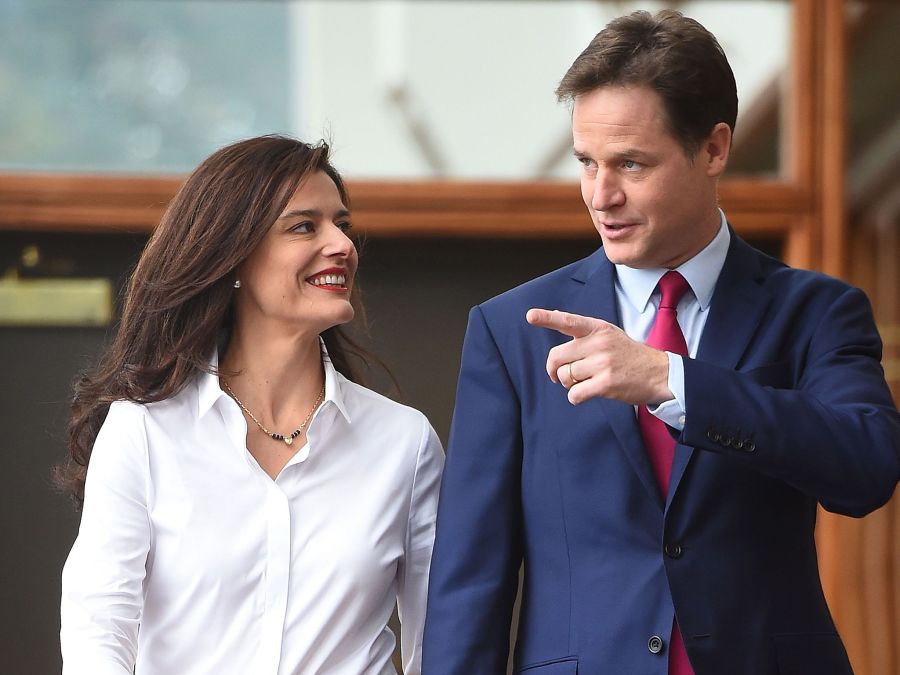 Getty
International trade lawyer, wife of the deputy prime minister, mother to three boys, mentor to a quarter-of-a-million teenage girls, and now cook, food blogger, gardener and chocolate-maker: in the final stages of election campaigning Miriam Gonzalez Durantez has revealed so many strings to her bow that she can be heard from Glasgow down to Mid Wales, supporting the Liberal Democrat candidate for Montgomeryshire, Jane Dodds.
After visiting a clutch of female Lib Dems including Lisa Smart in Hazel Grove and Jo Swinson in Glasgow, Nick Clegg's wife went to Newtown, Powys to help Ms Dodds reclaim this Welsh seat from the Tories, who unexpectedly swiped it from Lembit Opik in 2010. Otherwise this region of gentle beauty has been Liberal territory for all but four years since 1880. With so much to talk about, Ms Gonzalez is surprisingly tight-lipped. I have been briefed not to talk about politics, only about food. Later I am told I can ask wider questions, but not about specific policies.
It can't be the easiest of times within the Gonzalez-Clegg household. It is possible, some polls say probable, that Mr Clegg may lose his Sheffield Hallam seat on Thursday. Behind her ready smile, his wife must surely be anticipating how she'll support his transition from politician to civilian.
With a week to go before we find out, Ms Gonzalez is on her knees weeding a bed of chard and cabbage at Newtown's community garden. She advises the growers on how best to cook Swiss chard. She has a small garden at her London home and blogs family meals with her three boys, a hobby she revealed to online forum Mumsnet last month.
She has been writing mumandsons.com with Antonio, Alberto and Miguel since 2011. Together they have created more than 200 posts, but she jokes that the Clegg family are "rudimentary at the technical skills".
Food is a recurring theme with Ms Gonzalez. The day before we meet she and her husband helped prepare a lunch of roast chicken and apple and blackberry crumble at a Chippenham primary school, while announcing the Lib Dem plan to extend free school meals to all primary school children. "I think it is important that people know how to live, and the basics you need to eat and to eat healthily," she says.
Should home economics be part of our school curriculum again? "I think that it is important, whether it is through the school or it's through the family. I realise that there could be a legitimate discussion there."
The suggestion that someone with a demanding career, a political partner to support and three children might not also cook their own meals from scratch, never mind blog about it, seems a stretch to Ms Gonzalez. "We have to eat! The only difference is that before we are about to eat, my children take a picture. Everybody, no matter how busy they are will have to eat at some time." True, but will they create something similar to Ms Gonzalez's simple, wholesome dishes - roast fish with potatoes and tomato, chickpea salad, grilled halloumi with pomegranate seeds and Iberian scrambled eggs - or buy a bucket of fried chicken on the way home after a double shift and a long bus ride?
And will free school meals really tackle the growth of food, and therefore health, inequality? "It is one of the measures, I imagine," says Ms Gonzalez.
As first wives go, Ms Gonzalez has largely maintained her popularity during her husband's time in government. But then she hasn't had to get her hands dirty with politics. "I'm not running the party," she says.
When asked how she will know whether her mentoring programme Inspiring Women has been a success, she says: "I am a little bit sceptical generally about how some people want to put their focus on endless studies, rather than actually doing things themselves."
Let's hope Gonzalez continues to get things done, wherever her husband finds himself come this weekend.