Sophie Morris takes a trip to the rolling wide-open spaces of a remote Argentinian ranch to see if she can cure her fear of horses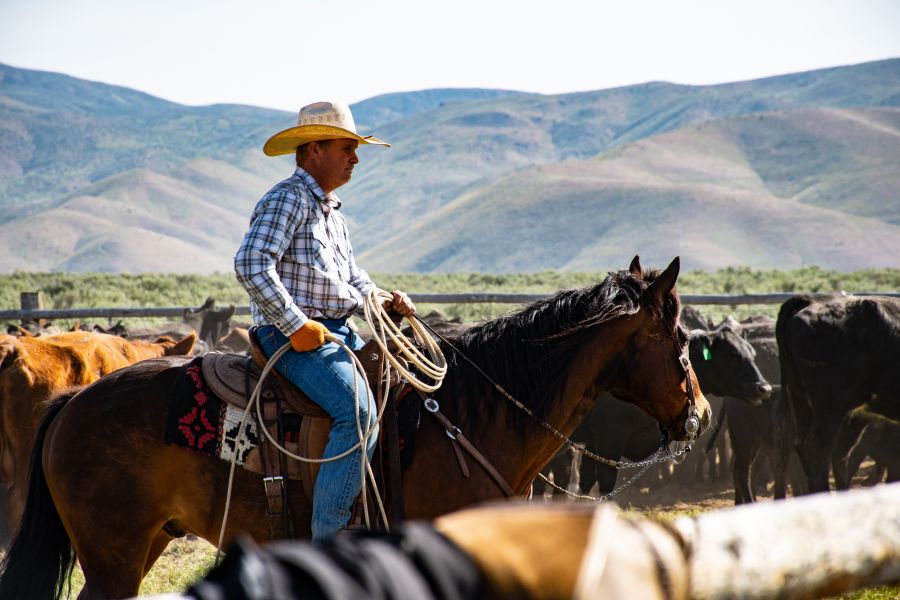 Brett Sayles
I wasn't the only guest on the estancia to be indulging in the holiday cliché of Argentina as the ultimate riding destination.
Several others agreed that galloping across expanses of verdant pampas, condors swooping overhead, was a must-do in a country with such a strong horseback tradition. But I was the only guest to have travelled more than 6,000 miles with no guarantee that I would be able to ride at all, being terrified of horses and prone to clammy panic attacks and embarrassing crying fits whenever I so much as hear a distant clip-clop.
So I was a little unsettled when the English owners, Kevin and Louisa Begg, announced, on the evening of my arrival, that all five guests would ride together the following morning to a waterfall a few hours away. I took to dulling my fear with large glugs of the local Malbec, hoping its soporific effect would kick in as soon as my head hit the pillow and spare me a sleepless night.
On the hour-long drive from the city of Córdoba to Los Potreros, a 6,000-acre working cattle ranch sprawling across the low hills of the Sierras Chicas in northern Argentina, the smoky light pollution gradually gave way to a flawless indigo sky. We approached the estancia via a complicated system of gates, fences and unmade roads, which underscored just how remote this place was. It has belonged to the same Anglo-Argentine family for four generations. However, it was only after the economic crash of 2001 that brothers Robin and Kevin Begg decided to go in search of the tourist dollar, which is just about all that's sustained parts of Argentina in recent times.
Five years on and they appear to be balancing the operation of a farm with 500 head of Aberdeen Angus cattle and more than 100 horses alongside the all-inclusive riding holidays with great success. Guests sleep in a cluster of simple en-suite cottages with cosy stoves and grand wooden beds, surrounded by the herd of fluffy black cows, which gave birth just a week before I arrived.
To my surprise, I mounted my horse easily the next morning. I assumed I had either been assigned Idolo for his reluctance to move at any pace, or that someone had popped a few sedatives in his nosebag to calm his wild, Latin temperament. He ambled steadily after the others while my leg was still swinging around at his side, my heel searching out his tummy to give him a kick-start.
Kevin and his super-knowledgeable wife, Louisa, explained that they match their guests to the horses carefully, giving the worst riders the most intelligent, rather than the dopiest, mounts. They also emphasised how well their horses are looked after - they take riders out on rotation and have heaps of time to frolic in the grass - and how authentic the Los Potreros ranch experience is. You won't have to share the jaw-dropping views and cosy farmhouse with more than 14 guests at any time, and only with children during designated weeks.
I felt surprisingly confident on top of the good-looking Idolo, with one hand holding the reins and the other on my hip. I was told that I was learning "Western-style riding", which seemed to mean making very little effort apart from moving the reins from time to time. Everyone seemed to find this a welcome change from strict, European-style. When the others cantered off, I was told to hang back with Ricardo, the chief horse-breaker, but I was feeling so relaxed that I wanted to gallop after them.
We came home to gin and tonic on the terrace and a lunch of empanadas - tasty little Argentine pies - and a selection of salads. Guidebook lore has it that you won't taste better beef anywhere in the world than in Argentina, and this has more than a ring of truth to it. Lunches of fantastic steaks were punctuated with dinners of deep pumpkin and onion tarts in soft, buttery pastry and handmade raviolis. There were scones or a freshly baked Victoria sponge for tea before each afternoon's ride and, on the day we roamed to the outer limits of the estancia, a five-star picnic was produced from the saddlebags, including cheese, wine and coffee.
By the second day, I'd pretty much thrown my fears to the wind and even tried a canter (excellent) and attempted to convince my horse that it was my job to decide where and when we stopped and started (not quite as successful). I had wanted to learn to ride so that I could visit more inaccessible places, and Los Potreros was a great induction. I found that I preferred the afternoon rides after a swim and a nap, when the sun slips down your back as you climb through the hills and each new peak is cloaked in a different reddy-pink hue.
After two more exhilarating rides, I realised just how large the estancia is. You could roam for months without getting to grips with it. One ride took us to what our hosts call "the top of the world". The substantial climb brought us to a heady vantage point from where the green fields of the estancia drop, before meeting the purple Andes in the distance. Another took us to the house built by Kevin's grandparents. Grandfather Begg chose the most inhospitable and inconveniently placed bit of land he could find and built his dream house on it. The view from the living room's two huge windows would give the Empire State Building a run for its money.
If I had decided that the riding wasn't for me, I'd still have enjoyed Los Potreros. Perhaps even more, with all that extra time to sun myself by the pool, swing in the hammocks and explore on foot. Taking the time to travel somewhere this remote brings plenty of benefits - hours of blissfully uninterrupted sleep and a sky full of deliciously clean air for a start. Kevin and Louisa think "ecological" and "organic" are just fancy words for "common sense", but both terms apply to their approach. The electricity comes from a couple of wind turbines, and the water from the spring, the wine is made locally, and the meat and eggs, of course, are home-produced. They also sponsor the tiny local school to keep it open for the farmworkers' children.
Despite my un-horsey credentials, by the end of the week I didn't feel like a complete impostor on the estancia. I suspect, however, that this has less to do with my equine prowess and more to do with the fact that Los Potreros welcomes all riders, however experienced or enthusiastic. Back home, my fear of horses was put to the test when a large hunt galloped past me on a narrow country trail, reminding me why I've no ambition to saddle up in the UK. I would fly 16 hours again, however, to see that view from the top of the world.
TRAVELLER'S GUIDE GETTING THERE The nearest airport is Pajas Blancas, which can be reached on Aerolineas Argentinas (0800 096 9747; www.aerolineasargenti nas.com) from Buenos Aires. Buenos Aires is served by BA (0870 850 9850; www.ba.com) from Heathrow with a touchdown in São Paulo. Aerolineas and the low-cost carrier Air Madrid (0870 121 3413; www.air madrid.com) fly direct from Madrid, or you can fly with North American carriers via their hubs. To reduce the impact on the environment, buy an "offset" from Climate Care (01865 207 000; www.climate care.org). The environmental cost of BRAZILBuenos Aires Villa Dolores Co de s rra rra e i S doba r A R G E N T I Rio Cuarto this flight in economy is £25. This funds sustainable energy and reforestation projects. STAYING THERE The writer travelled N A L. Mar Chiquita Pajas Blancas Cordoba Rio Segundo Los Potreros Villa Maria 50 miles with Far and Ride (01462 701 110; www.farandride.co.uk), which organises stays at Los Potreros from £150 a day, full board, including drinks, guides and riding equipment. MORE INFORMATION Argentina Tourism: 020-7318 1340; www.turismo. gov. ar Latin American Travel Association: 020-8715 2913; www.lata.org