Once the voice of breakfast-time Radio 1, Simon Mayo left the jingles behind when he took on a weightier role at Five Live. He tells Sophie Morris about the transition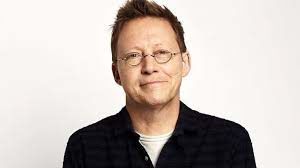 Simon Mayo wasn't sure how to respond when he was asked to co-present the final episode of Top of the Pops, which bowed out of the BBC schedule earlier this year.
He would have joined a rollcall of past presenters including the septuagenarian Sir Jimmy Savile, Dave Lee Travis, Tony Blackburn, Mike Read and Janice Long, all former Radio 1 colleagues. In the end, he decided, "it might be a bit naff" and he said no.
"I really was genuinely torn," explains Mayo. "Itwasafunprogramme and I'd grown up watching it. It's fine when you're young and a radio 1DJtogoand introduce music on the television. But I wanted to avoid: 'Oh, here's an old guy. What on earth is he doing on the programme?' If something feels uncomfortable I tend not to do it."
By opting out of such a landmark moment in BBC programming, Mayo was also shaping his own professional identity, and giving a clear signal of his transformation from pop-picker to talk-radio heavyweight, the voice of Radio Five Live's afternoon schedule.
Mayo is in his studio at the end of one of his shows. Wearing narrow-legged black jeans, the slim 47-year-old with boyish blond hair doesn't seem to have aged much since his Radio
1 days back in the 1990s. They lasted 15 years, six of those presenting the flagship breakfast show. Mayo introduced the "breakfast crew" concept and a host of successful features including Confessions, where listeners owned up to their most shameful acts on air, which was spun off into a Saturday night television show.
Instead of offering whimsical tales, Mayo's listeners now call in to quiz a politician, debate the NHS, or pose a question to some leading figure. It could be the Metropolitan police commissioner Sir Ian Blair, the actor Rupert Everett or authors such as JG Ballard, Clive Barker or Michael Morpurgo, all of whom have been guests of Mayo's over the past week. When he moved to Five Live from Radio 1 five years ago, poached by the controller Bob Shennan to bring personality to one of the few shows on the station which isn't dominated by sport, Mayo said: "I'm not a journalist, I'm an entertainer."
"What I was trying to say," he explains, "was that I'm very much aware that the people I'm working with have trained as journalists. If I'm doing a two-way with Fergal Keane or John Simpson, they're the journalists." Journalist or not- he's happier with "broadcaster"- Mayo's transition from disc-spinner to talk-radio host was, in his own
words, an unexpected baptism of fire. "It was May 2001 and the election was called during my first programme. I was interviewing Paul McCartney. I'd had three months off before starting and I could see it coming, but it definitely made for an interesting programme."
Then September 11 happened during Mayo's afternoon watch. "I think if that had happened to someone who had been here for 10 years they still wouldn't necessarily have been prepared. My editor said: 'Look at the screen, explain what's happening and describe what you can see," which was not an art or a skill that I was particularly used to. During the news I saw the second plane. To start with, I thought they'd found a different angle, or it was a replay. Then I realised that there were now two buildings on fire. I remember
jumping up and down and trying to get someone's attention. It was an extraordinary programme. I remember thinking: 'Is this how wars start? Is this the beginning of something bigger?' But that's not the kind of speculation you want from someone who's only been doing
it for a few months. The thing I learnt the hard way is that you just keep telling the story. You say what's happened. You repeat what's happened. You bring more details as soon you can and repeat them."
Since his arrival at Five Live, Mayo has managed to blend the arts with politics - which he did his degree in - and sport, when required. On the arts side, Mark Kermode reviews films for the show. The popular Thursday book panel is expanding in early November to champion new
British writing and will go head to head with Richard and Judy's phenomenally successful book club. Publishers say Mayo's choices are already moving the markets. He was 31st in a recent publishing power list.
Doesn't he miss the music? "Yes, absolutely." Presenting Radio 2' s Album Chart Show helps in this respect, as does standing in for Johnnie Walker, whose Sunday evening show Mayo is currently hosting. "I would not normally have said yes to doing anything extra as this is a full-time job, but the idea of doing Johnnie's programme just appealed. Mark Goodier was producing it. We go back a long way and it's a lot of fun."
When Mayo was ousted from the Radio 1 breakfast slot and
moved to mid-morning back in 1993, Goodier was his replacement. Mayo only learnt that his breakfast show had been axed while seriously ill at home. He clung on to his mid-morning slot while many of his Radio 1 contemporaries were culled during controller Matthew Bannister's blood-letting in the mid-90s. He had just signed a two-year contract in 2000 when Shennan decided he could redeploy his talents at Five Live.
He knows he's a little wide of the station's 18-24 target audience - two words he hates. "I think that, if you've got interesting guests talking about interesting subjects, and it's handled in the right way, there's no reason for anyone not to listen. I would like everyone to listen."