Cheddar? Gorge!
The i Paper
It's by far and away the nation's favourite cheese, with 95.5 per cent of households having some in the fridge. Sophie Morris discovers why we love it so much, and that there's much more to learn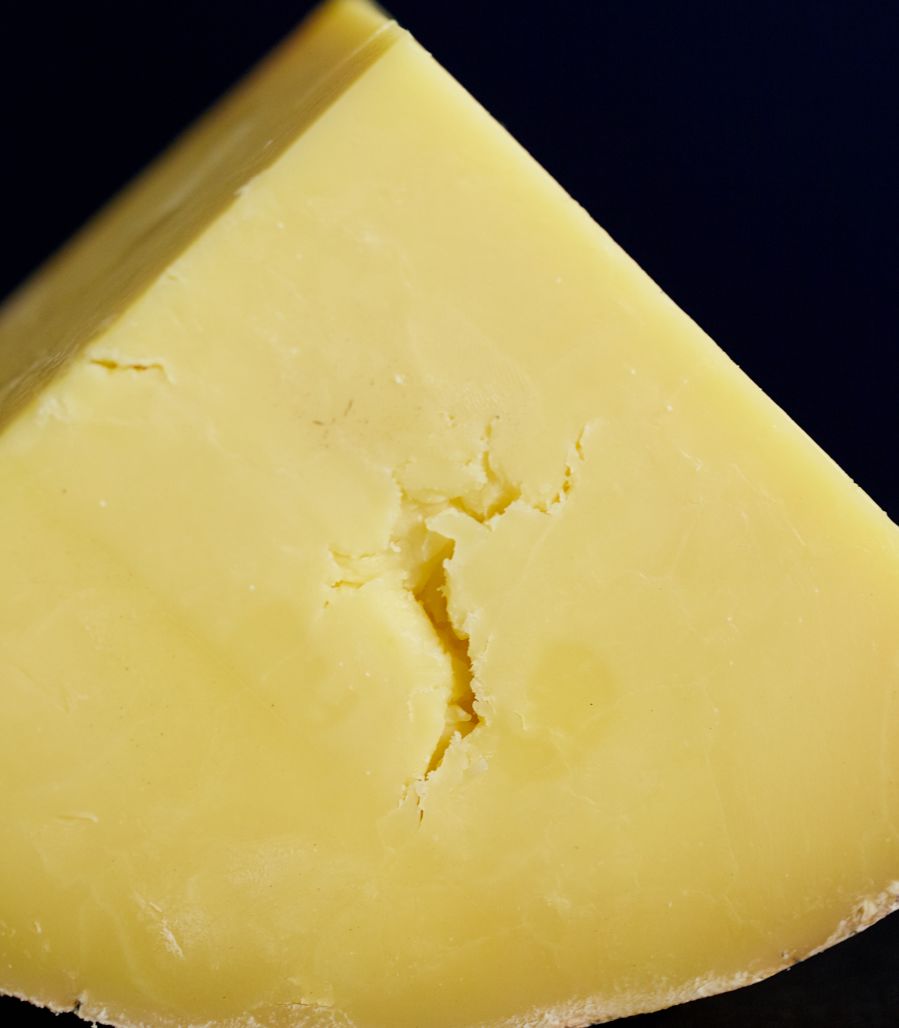 Hafod cheddar sold by Neal's Yard Dairy
Julius Longman has a dream job. When not tending to his dairy herd in Somerset's Vale of Camelot, he is chairman of the British Cheese Awards, which met at the Royal Bath and West Show in Shepton Mallet last month to hand out gongs and medals to our finest cheesemakers.
Cheddar is by far Britain's favourite cheese, but it poses a problem to award givers. Each year, we eat 330,000 tonnes of the stuff. When there's so much around, how can a single favourite variety be crowned?
You might think, as we've added brie and roquefort, feta and halloumi to our plates, that our appetite for Cheddar might have waned. On the contrary, it shows steady growth. When the British Cheese Awards began in 1994, 60 Cheddars were entered. By 2018 that number had risen to 155, an increase of 158 per cent. For 2019, two new categories have been created to celebrate its popularity.
"Cheddar production is a major part of the British cheese industry," says Longman, who's expanded the number of prizes so that all types of it can be celebrated, from cloth-bound to block produced, and mild to extra mature.
Jenn Kast, of cheesemonger Neal's Yard Dairy, calls Cheddar "the unsung workhorse of British cheese". Kast works closely with cheesemakers, and each clothbound Cheddar is matured at Neal's Yard's Bermondsey site in south-east London until it has achieved its best flavour.
She also leads cheese education at the company, and is coming to the end of a three-year exploration project on Cheddar. "There has been considerable change in the landscape over the past 20 years," she explains, "with increasing interest among cheesemakers in recipe and method."
Mary Quicke is one of Britain's most respected cheesemakers. Her family has farmed at Home Farm, near Exeter, for almost half a century and she has run its cheesemaking business since 1987. She is also a director of the Food Standards Agency and has an MBE for her services to cheese. "In 1994 most mainstream Cheddar cheese was much milder," she says. "Now Cheddar flavours are much more varied. For instance, we now age cheese for up to two years and select in a way that we never did before for different profiles of cheese."
When I hear from Lee Willett, marketing director of Dairy Crest, that Cheddar is bought by 95.5 per cent of UK households, it makes me wonder what that other 4.5 per cent are eating. They must be vegan. What's more, 55.5 per cent of all cheese sold in the UK is Cheddar.
Dairy Crest's Davidstow Cheddar creamery is the largest in Britain. Each year it produces around 50,000 tonnes of cheese with British milk from 330 farms in the south-west. That's a lot of farmers relying on our greed for Cheddar.
Willett says that Dairy Crest's Cathedral City can be found in six out of 10 British fridges. At the other end of the scale is his Davidstow five-year vintage, reserved for Michelin-starred restaurants and bought by Clare Smyth for Core, Michel Roux Jr at Le Gavroche, and Nathan Outlaw. Davidstow mature Cheddar won a gold both this year and last in the cheese awards. At the 2019 awards, the winner of best block Cheddar came from South Caernarfon Creameries, and the winner of best traditional Cheddar was Pitchfork from Trethowan's Dairy.
Cheddar-making originated in Somerset. It is said to go back to the 12th century and took its name from the town of Cheddar, where it was stored in the gorge's caves. Surprisingly, given the rate we plough through it, there's only one company still making Cheddar in Cheddar. This is the Cheddar Gorge Cheese Company, which also bagged a gold for its vintage Cheddar last year.
There's plenty produced nearby, such as Wyke Farms, the country's largest independent producer, which picked up a gold award for its Ivy's Reserve vintage Cheddar. It churns out 16,000 tonnes a year to a 300-year-old recipe, using only green energy.
The rest is made all over the world, though only a handful of producers across Devon, Cornwall, Dorset and Somerset can use the EU Protected Designation of Origin label, "West Country Farmhouse Cheddar".
Which should we eat? According to Willett, "A great Cheddar should be fairly close in texture, quite flinty for the more mature varieties but with a creamy flavour that lingers long after the cheese is swallowed."
James Rutter, operations director at Paxton and Whitfield, cheesemonger to the Queen, has 11 styles of Cheddar on his books at the moment and says that he could never pick a favourite. "It is like trying to pick your favourite child. All are different and I love them all for their differences."
The differences arise because a cheesemaker can use raw or pasteurised milk of any kind and one of many processes to make a cheese. For the Neal's Yard Dairy Cheddar exploration, Jenn Kast holds a recurring event called The Cheddar Makers' Forum, where the same seven cheesemakers can share knowledge and help each other. Nothing is recorded or reported, so the producers feel comfortable being frank with their competitors.
As any supermarket or corner shop chiller aisle will reveal, Cheddar is ubiquitous. But it's definitely not boring. "It's one of the most exciting evolutions in the farmhouse British cheese sector," says Kast.
"Cheddar is such a versatile cheese that nothing comes close to being able to replace it," says Giles Barber, who makes Barber's Cheddar in Somerset.
"You can enjoy it on its own, in a sandwich with some good pickle or use it in recipes. It has such a universal appeal. While diets and tastes have changed over the years, Cheddar has been adaptable and is as relevant to today's consumers as it's ever been."
Willett hits the nail on the head: "Cut it, slice it, dice it, grate it, cook with it. As long as you have Cheddar in the fridge then there's a meal to be made."
Five of the best Cheddars to try
Keen's Mature Cheddar £3.49/220g, Waitrose
A rich and creamy Cheddar from a Somerset farm where the Keen family has been making it for more than a century. waitrose.com
Montgomery's Cheddar (below) £6.75/250g, Paxton and Whitfield
This cheese has a big following and is one of the most popular sold at the cheesemonger Paxton and Whitfield. It's made on a farm in North Cadbury, Somerset, with a traditional method, and Jamie Montgomery uses starter cultures that his family has been using for 70 years. paxtonandwhitfield.co.uk
Hafod (right) £10.20/288g, Neal's Yard Dairy
This Welsh Cheddar is Jenn Kast's favourite. "This is a long, slow make that gently extracts moisture and allows for a supple and delicate texture, while delivering an amazingly rich, mellow grassy flavour," she says. nealsyarddairy.co.uk

Taste the Difference Barber's Mature Cruncher Cheese £2.50, 350g, Sainsbury's
A firm, creamy and crunchy Cheddar with some sharp notes, made especially for Sainsbury's by the world's oldest surviving Cheddarmakers: the award-winning Barber family of Maryland Farm in Shepton Mallett, Somerset.
sainsburys.co.uk