Sophie Morris on the resurrection of the urbane drinking hole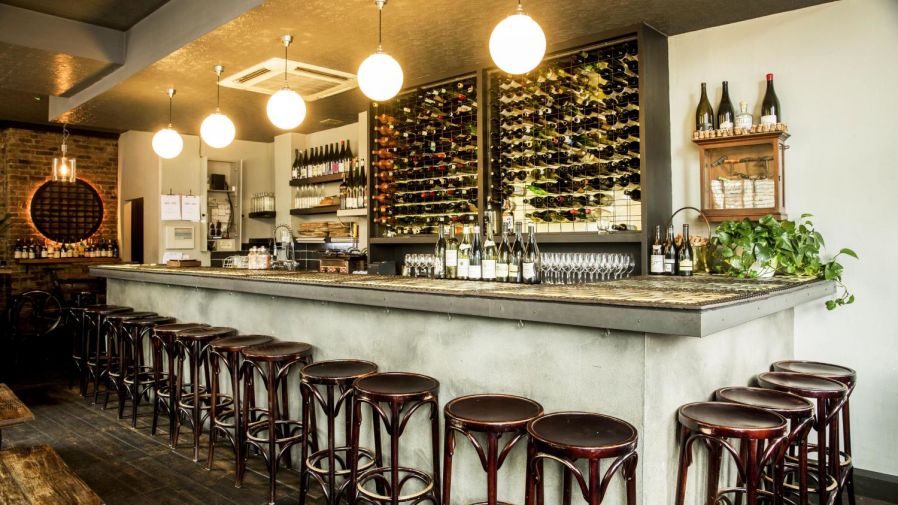 I haven't been invited to the pub for ages. It's all "I know this great little wine bar" and "let's pop out for a glass of something lively". These suggestions tend to be accompanied by the promise of insanely expensive truffle-flavoured crisps. There's a risk I'll never clutch a lukewarm glass of pinot grigio and a grab bag of Walkers again.
Unless you live in a bouji urban area, this is an unexpected volte-face in the saga of the British wine bar, which by the turn of the century was about as popular as poll tax. My own references swing between the Yates's Wine Lodge of 1990s Stockport and Bridget Jones swigging buckets of chardonnay.
But today I can sample a Catalan wine at Flawd in Manchester's Ancoats with a view of the canal, choose from a strong selection of German riesling at John Dory in Sandgate, Folkestone, or sip one of the regular wines on tap at Sète, a French-inspired bar bringing bursts of Gallic charm and beaujolais to Margate's Cliftonville. All three have opened since the pandemic, quenching the thirst for new and more flexible approaches in how we see a night out — we want food but can't commit to a sit-down dinner, and desire quality over quantity when it comes to what's in our glass.
Pre-Bridget Jones, wine bars had an even worse reputation, either smoky dens for sozzled barristers drinking big burgundys and bursting out of their waistcoats, or soulless spaces with the hard edges of chrome and glass and lists full of the vintage sparklers beloved of yuppies. But where most 20th-century revivals err towards the kitsch, today's wine bar reboot is proving to be something really special, a flush of independently owned bars and bottle shops selling interesting low-intervention wines alongside simple plates from makeshift kitchens: cheese, charcuterie, seasonal salads, pickles and ferments, tinned seafood.
The Flawd team has a background in fine dining and co-owner Richard Cossins says it was a "life raft" during the pandemic while their plans for a restaurant — Higher Ground, which opened in February — were on hold. But after working in bigger and more formal places, he's fallen for the close customer interaction a wine bar permits. "It's been so much fun opening somewhere super casual," he says. "A wine bar is a fantastic entry into the hospitality marketplace if you're a small business."
I'm lucky enough to have two new spots in my small Kent town, Broadstairs. One has gifted me Folc, an easy-drinking Provence-style English rosé (cheers Mitch at the Bottleneck). The other, No 1 Oscar Road (which like Sète and Flawd is female-run), is taking a stand against those ubiquitous truffle crisps (Superbon are the new Torres, guys).
Zeren Wilson, a wine writer and consultant who is the co-owner of John Dory, traces the wine bar's comeback to one particular London stalwart, Sager + Wilde in Hackney, which began as a pop-up ten years ago. "For me Sager + Wilde was the wine bar in London that shifted the landscape. It was the first of a new breed and a new style, when wine became part of the younger crowd. Without it, wine bars might have been left in the past.
Wilson also cites the 10 Cases in Covent Garden and Noble Rot, which has three locations in the capital, as inspiration. Other popular spots include P Franco — which reopened last weekend as 107 Wine Shop & Bar after a surprise closure in March — and Cadet, both in east London, and Top Cuvée in north London. But the trend for bars that are also "bottle shops" with high-end snacks has spilt all over the UK, from Bath's Beckford Bottle Shop to the Old Pharmacy in Bruton, Somerset, and all the way up to Fourteen Drops in Yarm, North Yorkshire.
Do you have to know your wine to drink in these places? Cossins describes Flawd as a natural wine bar, but says he's not chasing a trend. "I've been pouring natural wine since 2012." Others have a similar ethos but prefer to focus on the producer or terms like "low-intervention" and "biodynamic". As with food and cosmetics, "natural" does not mean anything in and of itself. "The scene has moved on a bit from a strict natural wine obsession," says the wine importer Rob Freddi of La Mad Wine, former owner with the chef Allegra McEvedy of the much-loved west London wine bar Albertine. "I think a lot of people were into natural wine for the sake of it — especially sommeliers — and then people realised that before you buy a natural wine, you should buy a good wine that has been made naturally."
Cossins laughs when I ask about his typical customer. Flawd's manager Meg Williams has just sent him an email about last weekend's clientele, which included performers and choreographers from the forthcoming Manchester International Festival, a gentleman of 105, and four Swiss men in head-to-toe latex who were in town for the Manchester Rubber Weekend.