Spiced biscuits inspired by traditional recipes from Germany and Holland are the best of festive bakes, says Sophie Morris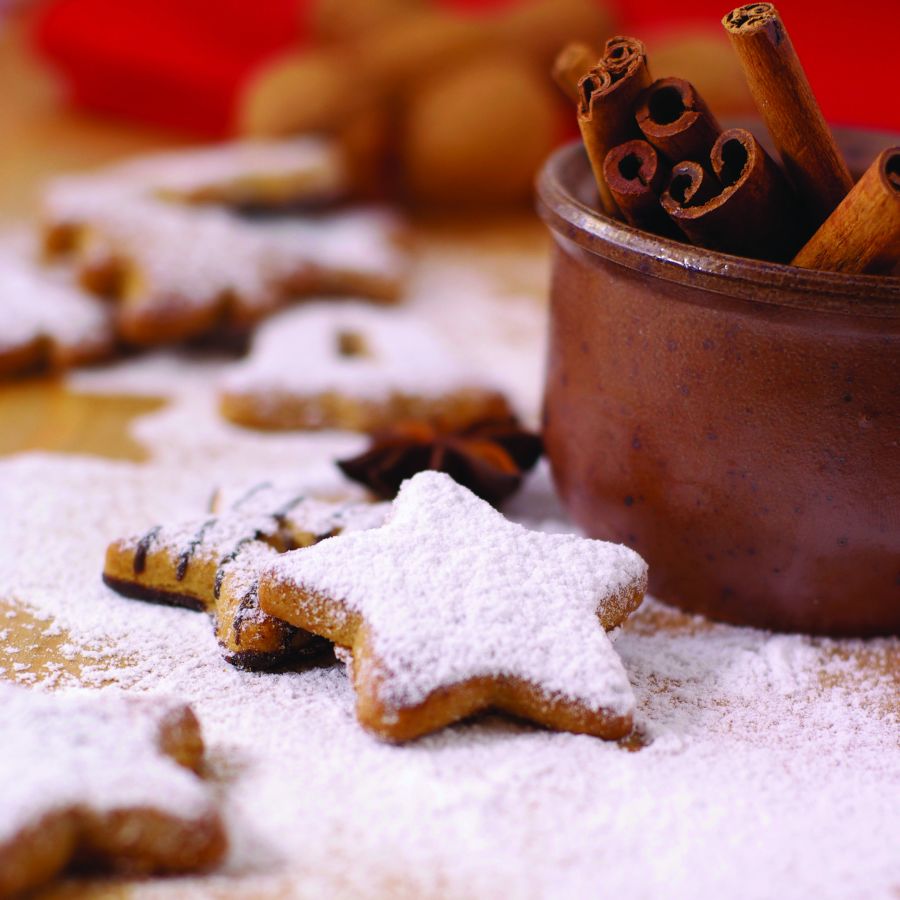 You don't have to be a biscuit connoisseur to know when you're biting into a lebkuchen these days. The soft and chewy gingerbread, usually either iced in sugar or coated in chocolate, has been available in Britain for many years, and the ascendance of German supermarkets such as Aldi and Lidl has helped their popularity.
But how about springerle? This tasty bake - lightly flavoured with ground anise, which is sometimes sprinkled on to the tray so that it sticks to the bottom of the biscuits - is also German and far rarer on our shores.
In fact, we have much to learn from our north European neighbours when it comes to festive baking. Home-made sweet and spiced biscuits are a delicious stalwart of the Christmas period in Germany and Holland.
Spiced breads and cakes can be traced back as far as ancient Rome and the first recorded appearance of a bread containing ginger came in 992 from an Armenian monk. He took this flavour to France and its popularity spread all over Europe.
Springerle were being made as long ago as the 14th century, and most likely originated in Bavaria.
Hot on their heels came Dutch speculaas biscuits, made with a Christmassy spice blend of cinnamon, nutmeg, cloves, ginger, cardamom and white pepper.
Springerle are thick, pale biscuits, while speculaas are a crispy golden brown. Both are made using special pear wood moulds and rolling pins, which are now available in the UK from specialist food supplier Sous Chef, which sells a biscuit roller (£27.50) and a variety of moulds (from £4.50).
The pear wood is important for biscuit-making because its fine grain allows for the carving of intricate designs without splitting the wood, plus it's durable and non-toxic.
So special are the prized moulds that German women consider them family heirlooms, passing them down to daughters as part of a dowry. Germans emigrating to the US used to make plenty of space in their luggage for the moulds to take the tradition to their new home.
Food writer Mima Sinclair has looked into the origins of both springerle and speculaas in her book Gingerbread Wonderland. "The Dutch East Indies spice trade in 1600-1700 brought many new spices to Europe, making them gradually available to the masses and ingraining them in many traditional recipes and celebrations," she explains.
"Historically speculaas were baked in Holland in the likeness of St Nicholas, a man who spent his life giving money and gifts to the poor. They are baked to celebrate his spirit of generosity and kindness on 5 December - St Nicholas Day. Springerle were originally baked for religious holidays but now are most commonly associated with Christmas."
Because of this, the earliest springerle moulds depict religious figures. Come the 17th and 18th century, brave knights and fashionable women became popular designs for the biscuits, and moulds for bigger scenes illustrating events such as weddings were also made. In time, the focus shifted to yuletide symbols such as stars, Father Christmas, holly and reindeer, and this is now the time of year they are mostly made.
Obviously the UK is no stranger to spiced biscuits. We love a crunchy gingerbread man, and apparently - this is a big boast - the gingerbread recipe finally evolved into a biscuit here in the UK, in Shropshire's Market Drayton, in the late 1700s.
British firms still get involved in the festive celebrations here too. Biscuiteers makes beautiful iced biscuits in the firm's central London factory and for Christmas it launched an all-spice recipe, a warming blend of cinnamon, ginger, mixed spice, dark brown sugar and treacle. It also sells tins of beautiful iced biscuits including nutcracker, nativity and 12 days of Christmas collections. The company describes the Christmas production period as a marathon: 300,000 biscuits have to be handbaked and iced, using 7.5 tonnes of icing and 700kg of butter.
If you'd rather make your own (a great rainy-day holiday activity), Biscuiteers also offers guides on how to ice their Christmas holiday collection, which includes candy canes, Christmas jumper and snowmen biscuits. So if you want to put mince pie and Christmas pudding haters out of their misery, now's the time to get baking.
SPRINGERLE GINGERBREAD BISCUITS
¼ tsp baking powder
2 tbsp milk
3 medium free-range eggs
375g icing sugar
75g unsalted butter, softened zest of 1 unwaxed lemon
1 tsp ground ginger ½ tsp ground cinnamon ¼ tsp ground nutmeg ¼ tsp ground cloves ½ tsp salt
450g plain flour, plus extra for dusting
You will need a springerle mould, about 12cm diameter and 1.5cm deep. Line two large baking trays with silicone baking sheets or greaseproof paper. Stir the baking powder into 1 tablespoon of the milk and set aside for 30 minutes until dissolved.
Place the eggs in the bowl of a stand mixer and whisk on a high speed for 10 minutes until thick and pale. Slowly add the icing sugar, beating until creamy. Add the butter, zest, spicesand salt and beat again until smooth and combined. Add the remaining milk and mix until just combined. On a slow speed, gradually add the flour in batches until the beater can't blend any more. Turn out on to a clean surface and knead in more flour to make a stiff dough. Wrap in plastic wrap and chill in the fridge for 20 minutes.
Dust the surface with flour and roll out the gingerbread to 1cm. Sprinkle a generous amount of flour into the springerle mould. Brush excess out with a pastry brush. Imprint the dough with your mould, and cut around the mould with a sharp knife or use a biscuit cutter of a similar size.
Press, cut and transfer to the lined baking sheets one at a time, so when you press the next one it does not distort the first. Leave to air-dry, uncovered, for 24 hours - this helps to preserve the pattern.
Heat the oven to 160°C/ fan-assisted 140°C/gas mark 3. Lightly brush with the remaining milk and bake in the oven for 10-15 minutes depending on size, until lightly golden. Leave to cool for 5 minutes on the trays then transfer to wire racks to cool completely.
From 'Gingerbread Wonderland: 30 Magical Houses, Biscuits and Bakes' by Mima Sinclair (£8.99, Kyle Books)
ALL-SPICE BISCUITS
Makes 24 biscuits
200g plain flour ½ tspn baking powder ½ ground ginger ½ cinnamon ½ mixed spice 50g dark brown sugar 100g salted butter, diced 50g black treacle or molasses Preheat the oven to 170°C/350°F/gas mark 4. Sift the flour, baking powder and all the spices into a mixing bowl. Add the sugar and mix well.
Add the butter. Using just the tips of your fingers, rub together the ingredients until the mixture resembles fine breadcrumbs.
When all the butter is evenly mixed in, make a well in the centre and add the treacle and bring it all together. You will know when it is all mixed in as it will have an even colour all over.
Place the dough on to your clean worktop. Divide into two and squash the dough into two even-sized flat discs.
Cover and chill until ready to use, or roll out immediately.
Cut your biscuits using biscuit cutters into your desired shape and evenly place on to lined baking trays. Bake for 14-18 minutes, depending on your oven.
When the biscuits are evenly cooked and just beginning to turn a golden colour, remove the trays from the oven and transfer the whole sheet of biscuits to a cooling rack.
Leave to totally cool before storing or icing as the icing will melt.
Christmas jumper icing instructions
Outline the shape of your jumper with cream line icing. Leave to dry for five minutes.
Use cream flood icing to flood the jumper biscuits.
Place your jumper biscuits on to a baking tray and into an oven set to the lowest temperature (50°C/ gas mark ¼) for 40 minutes, or until the icing has set hard.
Once set, use your cream line icing to pipe the detail on the jumper. Pipe vertical lines on the neck, waist and cuffs.
Then pipe vertical lines down the jumper. Between the vertical lines pipe wavy lines and dots. Finish by piping a green line around the neck and then with your red line icing, pipe a zigzag directly underneath.
Finally, pipe small blue dots in each space of the zigzag.
Adapted from the 'Biscuiteers Book of Iced Biscuits' by Harriet Hastings and Sarah Moore (£12.99, Kyle Books)