The fruit is enticing a growing number of people in the UK to explore Sri Lankan dishes in more depth - the nation's cuisine has become among the trendiest of the past year. By Sophie Morris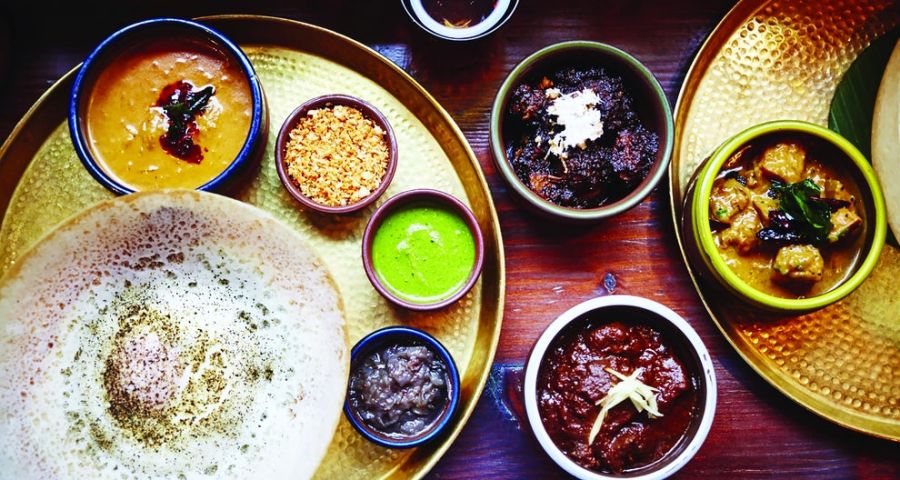 An egg hopper with sauces and curries at Hoppers
Coconuts are one of the biggest food stories of the past decade. Sweet, fatty, fresh, crunchy and incredibly good for you. Move over, avocado, it's no wonder the world fell for this exotic treat.
Coconut is also a cornerstone of Sri Lankan cuisine. Lots of Britain's cooks have welcomed the fragrant nuttiness of coconut oil into their stirfries and stirred thick, glossy coconut milk into their soups and curries in recent years. The logical next step was to get on board with more of the island nation's food, and recently many of us have been doing this with a giddy enthusiasm.
Deliveroo orders show our interest in Sri Lankan food is building, with orders increasing by a huge 116 per cent in 2019. The firm's regional director, Harrison Foster, calls it "one of the trendiest foods around" and the list of our favourite dishes spans restaurants across the country: there's goat kothu roti from Hoppers, humble moghuls from Yaalu Yaalu and mutton rolls from Papaya, all in London, and chicken kothu from Cardiff's The Coconut Tree, which also has branches in Bristol, Oxford and Cheltenham.
Meanwhile, an unusual reverse ripple effect is happening with restaurant openings. Where once Sri Lankan restaurants were mostly found in suburban areas, feeding their own communities and lucky insiders but gaining little wider attention, they've suddenly become the hot ticket in city centres.
In London alone there have been three openings in six months, following a trend set by Hoppers, which opened its first Soho kitchen four years ago and will open its third restaurant, in King's Cross, in early February.
A hopper, which you might know as appam, is a crispy, bowl-shaped pancake made from coconut milk and fermented rice flour. Some come with a filling - an egg hopper is a classic - and you break small pieces off to scoop up curries, sauces and chutneys.
"I remember first discussing the idea of a casual, fun Sri Lankan and South Indian restaurant with Karan Sethi at my wedding," recalls Karan Gokani, the founder and director of Hoppers. Sethi is his brother-in-law and a founder of the JKS, the restaurant group behind Hoppers, with his brother Jyotin and sister Sunaina, Gokani's wife. "In the months that followed we travelled across Sri Lanka and India together and ate at all the notable Sri Lankan restaurants in suburban London before fine-tuning the menu for Hoppers."
This is what's unusual about the journey of Sri Lankan food in the UK. Cities are typically seen as incubators for new-tous culinary ideas because of their cosmopolitanism. There are up to 200,000 Sri Lankan-born people living in the UK, many of whom are Tamils who fled civil war at home in the 1980s and 1990s. Today their British-born children are repackaging childhood favourites and sharing around these delicious memories of summer holidays in Sri Lanka.
"I feel Sri Lankan food is going through the same evolution that Indian food went through in the UK over the past decade," explains Gokani. "There are some very popular Sri Lankan restaurants out in Tooting, Wembley and Morden, which have been going for years. They cater to the local communities and have played a significant role in introducing people to Sri Lankan food.
"What we do differently at Hoppers is refine some of the traditional dishes by using premium produce, cooked with traditional recipes and methods.
Although Gokani is from Mumbai, he ate with his Sri Lankan friends at university and learnt their mothers' tricks. The Sethis grew up in the capital eating Sri Lankan food in friends' homes. Dom Fernando, a firsttime restaurateur who opened Paradise in Soho in late 2019, was born in London to Sri Lankan parents. He worked in hospitality all over the world before returning home to feed our growing interest in Sri Lankan cuisine, opening hot on the heels of Kolamba, also in Soho, and from new restaurateurs Aushi and Eroshan Meewella.
"As a nation we have always known how good our food is, but never believed that the rest of the world might," says Aushi, who grew up in Colombo, Sri Lanka's capital. "This has changed over the last few years, as the country gets more exposure and tourists. The food is always a highlight for many who have been to the country."
After the Easter bombings of 2019, in which 259 people were killed, the British Government advised against travel there for a number of months. But the country is ready for visitors, needs the trade and we can get a taste of what to expect before we buy our tickets.
"There suddenly seems to be so much buzz about Sri Lanka," says Gokani. "Just over the past two weeks, I've had more than a dozen people message me saying they were in or about to visit Sri Lanka and were keen to know the best places to eat there. Quite possibly, the growing awareness of Sri Lanka via its cuisine has played a role in this revival."
We're cooking it at home, too, and hardto-get ingredients are sought after in supermarkets. "We know our customers love South Asian food and Sri Lankan dishes in particular, as country-specific recipes and ingredients have gained in popularity," says Zoe Simons, Waitrose's senior development chef. It's tiresome to only focus on "healthy" food in January, but Sri Lankan dishes are mostly packed with vegetables and are free from dairy and animal fats.
People who haven't tried Sri Lankan food often ask whether it's like Indian. The answer is that, yes, it is a bit like Indian food, but don't be fooled by all the creamy coconut. A mild appearance can mask a multifaceted dish with deep and complex flavours. Sri Lankan dishes are often fiercely spiced, building flavours and layers of heat that arrived from many countries as travellers stopped at the island on their trading journeys along the ancient Silk Road. Now it's our turn to visit, even if only by means of an egg hopper with coconut relish.
Five dishes to try
Kothu roti
Chopped pieces of stale roti, greens, shredded vegetables, scrambled eggs and leftover curry sauce - the perfect late-night, post-party, one-pot meal, says Karan Gokani.
Mutton rolls
In Sri Lanka snacks are called "short eats" and this is a classic. The cylindrical rolls are stuffed with curried potato and minced mutton.
Pol sambol
This coconut, chilli and lime relish is served alongside many dishes and you'll never find it far from an egg hopper. Dom Fernando says this combo is "as authentic as you can get".
Crab curry
The new Hoppers will have the seafood dishes of the Colombo-to-Galle coastline centre stage, and a highlight is the crab kari, for which they've sourced blue swimmer crabs, which are apparently easier and less messy to eat than other crabs!
Fish cutlets
Another "short eat", the fish cutlets on Kolamba's menu are made from pilchards and deep fried in breadcrumbs, brought to Sri Lanka by the Dutch.