A chickpea shortage is threatening to force up prices. What are the alternatives? By
Sophie
Morris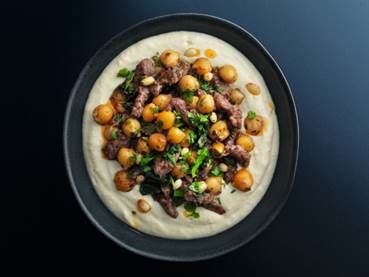 M&S launched its Israeli velvet houmous in 2017
Stock up your shopping trolleys. Clear out your cellars. Prepare your pitta, carrot sticks and bags of ready salted for new bedfellows. Experts are warning of a worldwide shortage of chickpeas because of crop failures. And no chickpeas - you know what's coming - means no houmous.
The news, as reported in yesterday's i, that the price of houmous has soared by a third because of the shortage, upping the cost of an average 310g pot from £1.14 in January 2017 to £1.47 a year later, has left fans scrabbling for alternatives and wondering how to make their dip go further.
Are there any substitutes? The Greeks think they have one. Authentic Greek restaurants such as London's The Greek Larder will serve fava dip instead, a pleasing earthy blend of yellow split peas with onion and oil.
Fava dip is not to be confused with fava beans, which are broad beans. Handily, these verdant pulses also make a great dip or spread when blended with oil and seasoning. Spike with cumin or chilli, or tahini to give it a feel of faux houmous. Borlotti, cannellini and black beans will work just as well with this method, as will lentils.
Josh Katz, chef and owner of Middle Eastern restaurants Berber & Q and Shawarma Bar, is the don of doing incredible things with houmous. "A chickpea crisis is a scary thought, as houmous is an integral part of our offering," he admits. "We'd never want to compromise on the quality of our ingredients, even if it means spending a little more on them."
Might faux houmous become a thing? "For me, there are no alternatives to houmous. We have alternative mezze dishes on our menu, including labneh, babaganoush and roasted pumpkin blended with tahini and lemon, but once you take the chickpeas out of houmous, it's no longer houmous by definition. There is no substitute for the real stuff, and that's the reason why it's so popular."
You can mix houmous with other ingredients to make it go further, though. Katz's menu includes houmous served with roasted tomatoes and basil, fried aubergine and boiled egg, and lamb, pine nut, pomegranate and chilli. Caramelised onions and roast squash or peppers are other great toppings.
Haven't we been here before? We have: last April all the major supermarkets' shelves were stripped of houmous after a supply problem left the dip with an unpleasant metallic taste. We all survived without having to overcome a long-held hatred of taramasalata, but that was a manufacturing blip; this is a production shortfall.
A chickpea by any other name is simply not houmous.