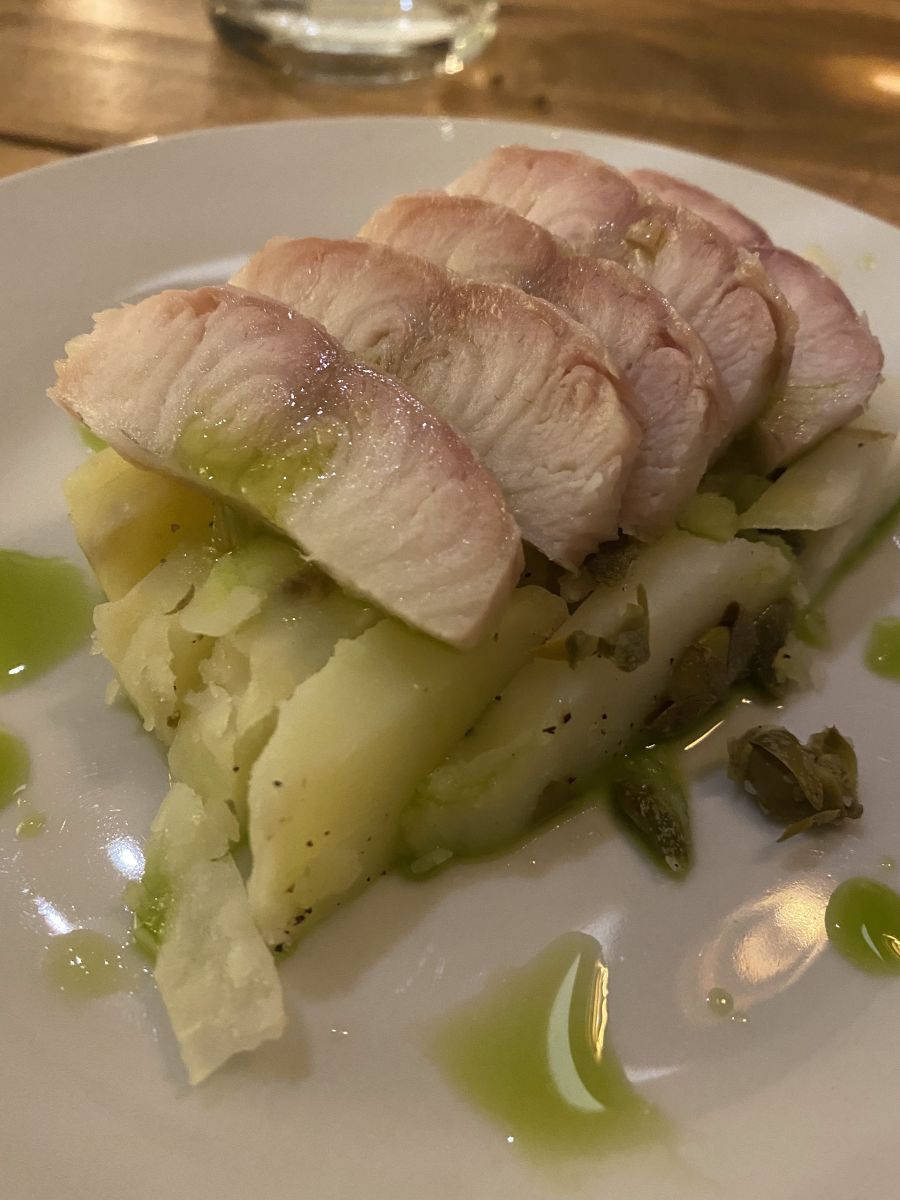 St John smoked eel by Lisa and Duncan, New Yesr 2021/22
Bacon keeps coming up when I ask chefs about smoked eel. "If I'm describing it to someone who hasn't tried it, I'll call it a fishy bacon," says Johnnie Crowe, who serves an East End seafood cocktail — a bite of smoked eel, clam and caviar in oyster mayo and a foamy eel cream — at Restaurant St Barts in Smithfield, London. Forget slippery connotations of cold flesh entombed in clear aspic: the fish chars like meat on hot coals, and has a fat content that allows you to render the skin into the crispiest melting mouthful. "If you're looking for fat," he says, "you can't get much better than eel."
Not convinced? How about Jeremy Lee's smoked eel sandwich, a menu stalwart at Quo Vadis in Soho, or Florence Knight's posh take on confit potato, a burnished millefeuille of pressed eel and King Edwards, at the Sessions Arts Club in Clerkenwell? "It has a complex flavour," she tells me. "Almost like bacon."
Jeremy
Steven Smith of the Freemasons at Wiswell in Lancashire, another smoked eel fan, likes to pair what he calls — you guessed it — "the bacon of the river" with pork belly and seasonal fruit. He uses the whole fish, making a spiced broth from the bones and an eel butter sauce for the pork, and scraping the bones after filleting for an eel mousse. We clearly have a taste for it: last month the Freemasons was named one of the UK's top three gastropubs.
The first time I was offered smoked eel in place of actual bacon was late last summer at Updown House, a 17th-century farmhouse hotel and restaurant near Deal in east Kent, where the chef Oli Brown serves fat fillets of smoked eel alongside a bright lake of scrambled eggs for breakfast. Can it be a stand-in for smoked salmon too? "It's much meatier," says Fede Pollame, head chef of the London Shell Co, who has been trialling a smoked eel sausage roll and is putting it on the menu as a Merguez-style sausage with date puree, describing it as "classic north African flavours, but basically sausages and brown sauce". He has also done a smoked eel and pineapple pizzetta. "I'm half Italian, so ham and pineapple is out of the question," he jokes.
The popularity of eel does raise sustainability issues. European stocks have declined by 95 per cent since 1980, so all the eel we eat should be farmed. A number of chefs use the Devon Eel Company, which shifts 300kg of the fish a week (for the non-chef consumer, it sells it at £7.50 for a 100g fillet).
"It's not easy to get hold of, hence the price being so high," Smith says. "But you don't really get a badquality smoked eel, whereas with smoked salmon you can pretty much choose how much you want to pay."
" In fact, tiny glass eels and the adolescent elvers are so profitable that they change hands for more than £1,600 a pound. Maine is one of only two US states issuing permits, and the race to farm, or poach, eels there is considered a gold rush. Eels are one of the most trafficked animals. Last year Europol seized £1.67 million of glass eels and arrested 49 people.And the Swedish prime minister is caught up
Lee in a political scandal after admitting he knew that his adviser had been caught illegally fishing them and had paid a £3,000 fine.
Overfishing is one of many problems. As migrating glass eels cross the Atlantic Ocean from the Sargasso Sea to Europe they face many obstacles, including an ocean gyre polluted by plastic waste.
Eel wasn't something I considered eating at home until a friend made a classic St John dish using them. I then bought some small packets from the Severn & Wye Smokery and looked for them in the fridge a few days later. "Oh, we ate that 'mackerel' last night," my husband told me. Apparently my six-year-old loved it. When I bought more she ate a few mouthfuls before I told her what it was, which put her off.
Why are people happy to eat ugly buggers such as monkfish but not eel? "People are squeamish because it's long and slippery," Pollame says. "But I've never fed it to someone who hasn't ended up liking it."