Roast duck is star of the show in 10-course tasting menu - but is it worth all the hype? Sophie Morris finds out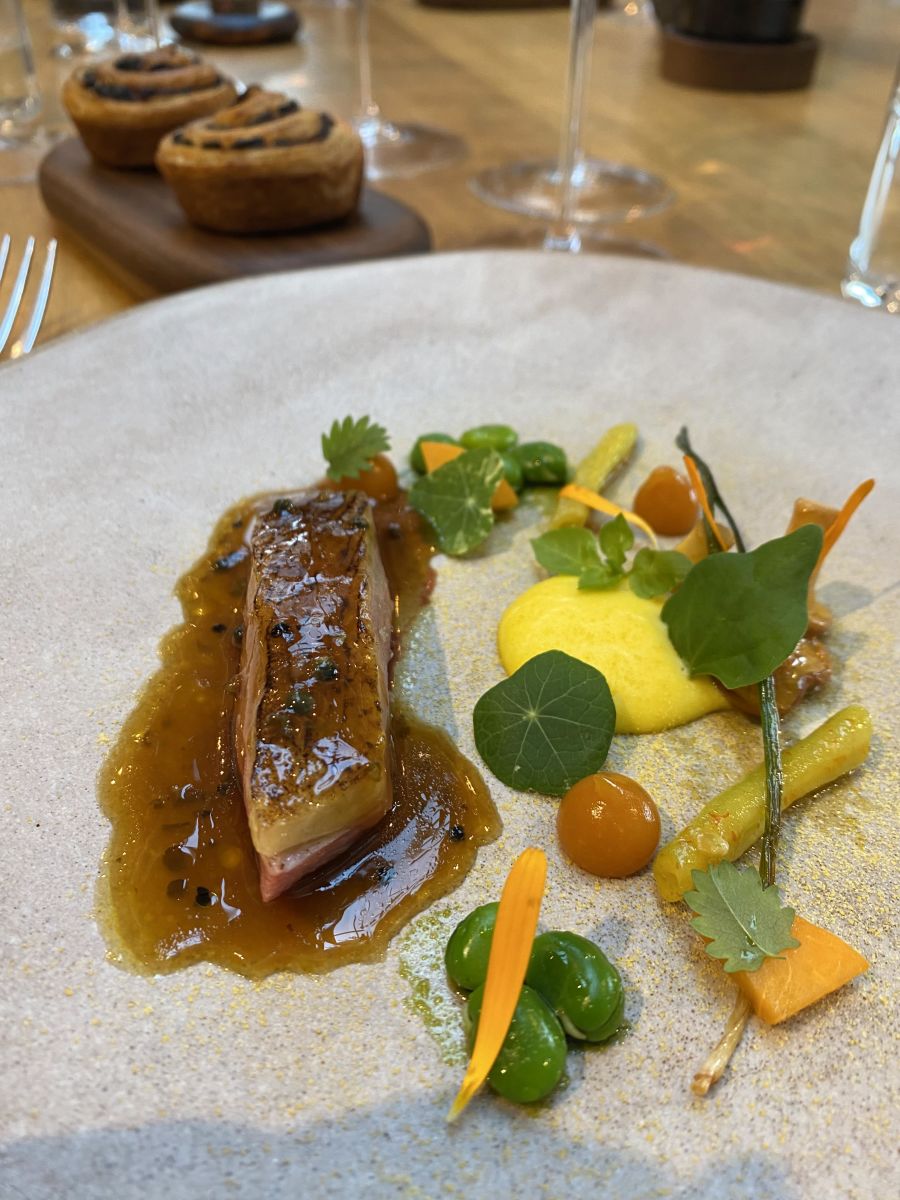 Dombes duck at restaurant Moor Hall
As the main course is set before me, I finally have to admit defeat. The roast duck, I've been told, has come from Dombes in eastern France, and hung for several weeks. Its skin is crisp and honeyed, the flesh a soothing terracotta. Around it sit bright broad beans, a sunny puddle of sweetcorn purée, nasturtium leaves and flower petals.
This is the sixth course in a tasting menu at Moor Hall in Aughton, Lancashire - between Liverpool and Manchester - which was recently crowned England's Best Restaurant.
Seven "snacks" already preceded the menu proper. Then, as the duck plate, the work of 17 chefs as well as many pairs of tweezers and piping bags, is set before me, I do something I know is wrong. It's rude, perhaps disrespectful, certainly frowned upon but I cannot help it: I make a run for the loo.
I relieve myself as quickly as possible, wondering what might befall me on my return.
In recent years, much has been made of ego-driven fine-dining chefs who demand guests dance to their tune if eating their food, even if they've paid hundreds of pounds for the privilege of being at the restaurant. At a three-Michelinstar restaurant in Rome, a staff member even accompanied me to the toilet and waited outside the whole time.
If the seven snacks and 10 courses of Moor Hall sounds a lot (after the six savoury courses, we do four sweet, then cheese and petits fours), the Welsh restaurant Ynyshir serves a 30-course menu for £375, a four- to five-hour experience I've heard described, in whispers, as something of an "ordeal". Chef Gareth Ward was recently accused of verbally abusing customers who weren't fans of the birch smoke wafting around. Ward disputes events, though he has previously said, "People say you should cook for your customers. I say f**k that. You should cook for yourself."
But what is fine dining, anyway? If you're forking over a small fortune - chef Mark Birchall's tasting menu at Moor Hall is £225, with a wine pairing from £135, and a four-course lunch option at £115 - how do diners know where to eat and what's worth the money?
Moor Hall's "England's Best Restaurant" title is courtesy of the National Restaurant Awards. For 2020 and 2021, it was also named best restaurant across the whole of the UK, but Ynyshir has taken home the "National Restaurant of the Year" award for the past two years. Michelin is the most famous official taste-maker when it comes to expensive restaurants.
Moor Hall has two Michelin stars and many were surprised it didn't receive a third this year. There are numerous other ranking systems that diners can consider if booking a special meal, such as AA Rosettes, La Liste, 50 Best and The Good Food Guide, which names Moor Hall as one of only three "world class" restaurants.
So what do you get for such an insane amount of money? Moor Hall is actually fairly conservatively priced - Noma in Denmark is £400 - but like everything else it has gone up, from £155 in 2020. But there is a stark difference between the places that want to feed you and the places that want to feed you the chef 's dreams alongside their nightmares, anxieties and regrets.
Thankfully, I've come to the former kind, which means a roll call of luxury produce and a chef who, while hugely experienced and at the helm of a fair-sized empire, is friendly, calm and understated. There is house-made charcuterie, smoked eel and oyster. I eat crab, beef tartare, lobster and turbot. The butter is whipped with garden herbs. The crackers are pressed with flowers. A guide to the foraged ingredients is helpfully provided.
We are taken on a tour of the extensive kitchen garden, which supplies much of the menu from beetroots and courgettes to chrysanthemum and even apricots, and the expansive kitchen - built when the restaurant opened in 2017 - before sitting down to lunch in a light-filled contemporary dining room, all naked wood and glassblown lighting.
Prices are high but, unsurprisingly, restaurants across the board are feeling the squeeze. And if you're put off by the projection that eating in these places is as unlikely as getting a Glasto ticket, think again. I checked 10 fine-dining restaurants across the country and could have a table on a Friday or Saturday evening within two weeks at all but two London spots.
When I returned to the table after my toilet break, I discovered my duck had disappeared. Christ. This is the sort of trick I'd spring on my young daughter. Thankfully, as soon as I approach my seat, it reappears, having been removed to keep warm. My behaviour is forgiven, not a word said.
I travelled four-and-a-half hours each way for lunch at Moor Hall, but the place is proof you don't need to fly across the world for a seat at one of the very best restaurants. I'd certainly go back, even if I don't want to sit through such an indulgent and intense meal every day of the week.
Of course, the price is a huge chunk of most people's wages, and it certainly is not worth getting into debt over, but dining like this has its part to play in Britain's food scene, where I think people want value over showmanship and spectacular service over idiosyncrasy.
I hope, should I ever have the funds, they'll take a booking from me again.