Kombucha is an ancient drink made from fermented tea that is now getting sophisticated updates. It's tasty - and alcohol free.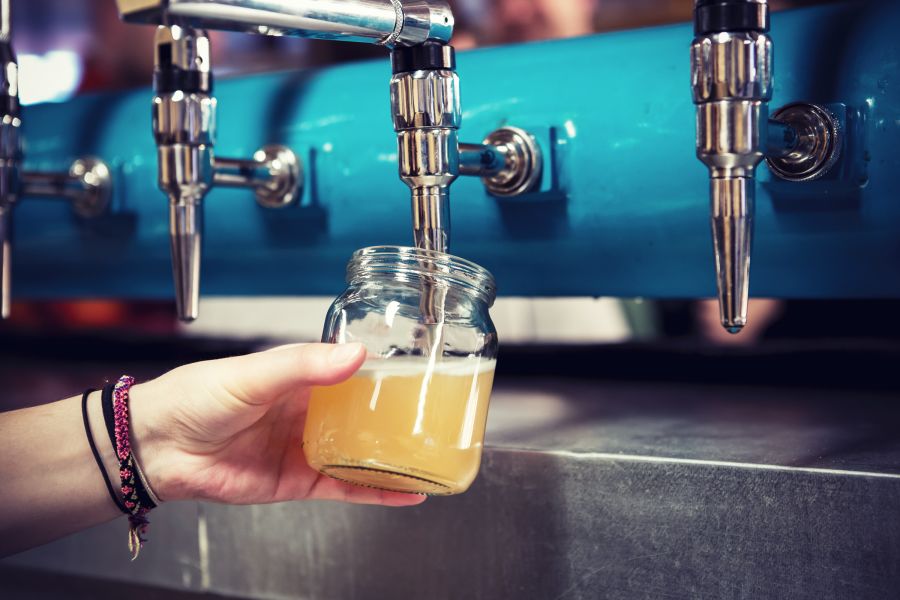 JARR sells kombucha on draft and by the bottle
There's a stretch of land in east London between Stratford and Victoria Park that looks as if it's escaped the rapid gentrification going on around it and above it.
Look up and you'll see a trainline carrying people towards the City or the huge Westfield shopping centre a few minutes away, but at ground level the industrial spaces appear scarcely changed in a half-century. The graffiti is revealing, though, and the buildings in Queen's Yard are home to breweries and bars.
Come to Mick's Garage on a weekend and you'll find clubbers crammed into the Crate brewery, dancing to Balearic house, techno or, next month, Hot Chip's Alexis Taylor playing a Prince DJ set. Are they here for a piss-up in a brewery? Maybe, but just as many are drawn by the Jarr Bar, the country's first kombucha tap room, which serves cocktails made from fermented tea.
Kombucha is an ancient drink but it's developing a new following among Britain's non-drinkers. No one wants to drain pint after pint of Coca-Cola on a night out, while a glass of kombucha provides a nuanced, flavoursome, slightly sour and fizzy drink which is low in sugar and a genuine pretender to a real cocktail, so much so that Adam Vanni and his three Jarr cofounders won the "Alcohol" category at the Young British Foodies awards in September last year. Though kombucha is a fermentation and contains a very low level of alcohol, it is below the 0.5 per cent non-alcoholic drinks must be legally.
Never heard of it? Kombucha, pronounced kom-booch-a and affectionately known as "booch", is a drink of tea mixed with sugar and fermented using a Scoby, a symbiotic culture of bacteria and yeast. It is this bacteria and yeast which transforms your sweet tea into the tangy, fizzy drink whose popularity is quickly passing from the cult into the mainstream.
According to one industry report, the kombucha market is expected to triple in size over the next five years, from £190m to £567m, while experts say the demand is there but producers need to catch up. According to Mintel, 42 per cent of 18- to 24-year-old Brits are drinking more low- and no-alcohol drinks than they were a few years ago.
In a side room off the vast space that Jarr shares with Crate is Vanni's lab. Beyond the stainless steel fermenting kettles, which hold hundreds of litres of steadily brewing kombucha apiece, is a metal rack of wide and squat glass jars, which look like they're filled with urine samples of varying qualities.
In fact, this is a test area for new flavours. "You can make a kombucha out of anything," says Vanni. "You could try with a piece of old shoe."
Thankfully the sample he pours for me isn't flavoured with the history of sweaty morning jogs, but a hemp kombucha he's been playing around with. It tastes sour and herbal and refreshing all at once.
I first tried kombucha in Indonesia and have recently been using it as an alcohol substitute. Each time I try one I'm impressed by the diversity of flavours and that it really doesn't taste like any other drink. On the surface of these liquids, however, are stomach-turning jelly discs which look like extras from Alien. These are the Scoby, the living, breathing, probiotic element of kombucha, and the part which is said to promote a healthy bacterial environment in your gut and to boost immune systems, though manufacturers can't make these health claims on their products.
The fermentation process, as in cheese, kefir, kimchi and sauerkraut, extend the shelf life of the drink while creating an environment where "good" bacteria can flourish. Those interested in the current health fad we're calling "wellness" have many reasons to drink kombucha, but the intriguing taste is its most appealing characteristic.
From the way Vanni talks as he begins our kombucha brewing lesson, I think he must have a background in microbiology. In fact, he spent a few years as a chef in London before ending up back home in LA, wondering what came next.
Kombucha is big on the West Coast, as it is in New York and Australia, and when his friends, the owners of Crate, visited they decided to make their own. He launched Jarr in 2015 with Jess and Tom Seaton and Neil Hinchley, but before that came months of research.
For example, they tried dozens of different teas before choosing a 50/50 blend of green and oolong teas. Vanni has been able to draw on his co-founders' knowledge of brewing and all the brewing and bottling is done by hand, with similar equipment.
The DIY kombucha process is quick and easy. I almost don't notice we're doing it as we talk flavours (Jarr comes in original, ginger and passion fruit) and where to buy it (Harrods and Soho House, though civilians can find Jarr taps in a number of pubs, on Amazon and in health food shops).
We add half a litre of boiled, filtered water to a handful of tea bags, followed by 160g of organic cane sugar, then fill the jar up to make a 2l batch. Wide-mouthed jars are best so the mixture can breathe. When it's cool (under 29°C so you don't kill it), add your Scoby.
The fermentation happens when your tea is given a warm and airy home, preferably between 23°C and 27°C, and left to get on with it for a few weeks. For Vanni the challenge was working out how to do this at scale and produce consistently delicious booch. You can use 200ml of raw kombucha, or buy a ready-made Scoby online.
There are other new brands on the market: Equinox, Profusion, Captain Kombucha, Kombucha Kat, and even a try from Jonny Wilkinson, No 1 Kombucha, which is sold in Sainsbury's. Most of these are flavoured, fermented green teas, but David Begg's Real Kombucha takes a different approach: he has chosen three high-quality teas and is using the characters of each to create complex and fascinating drinks. His dream is to see a kombucha tap in every pub and he's listed in Fuller's pubs, but he entered the market at the other end: Real Kombucha is sold in more than 50 of Britain's Michelin-starred restaurants. He met Melania Bellesini, head sommelier at Heston Blumenthal's The Fat Duck at a trade show, and she bought some not knowing how it would perform. Diners loved it - Begg says it's best served chilled in a wine glass.
Jarr has just announced a partnership with the family-owned Belgian brewery Duvel Moortgat, to expand operations and distribute around Europe. As well as popularity in high-end restaurants, Begg recently found a willing audience at a supermarket tasting in his local Budgens in Buckinghamshire.
"The opportunity is vast," he says. "There's an absolutely massive market for people who want something which isn't alcoholic."
Know your ferments: kefir, kvass and kimchi
Like kombucha, these are all fermented comestibles - and can all have a positive impact on gut health, thanks to the probiotics (friendly bacteria) that they contain.
Kefir is traditionally a cultured, fermented milk drink with a sour and slightly fizzy taste, although a version can be made with water.
Kvass is a fermented grain drink that some describe as a barely alcoholic beer. Traditional in Slavic and Baltic countries, it has gained a growing popularity in the US in recent years.
The best-known kimchi in the West is pickled cabbage. It includes fish sauce or dried shrimps and chillies.