They are certainly innovative (plum and kale risotto?!), but Nigella and Jamie don't need to fear artificial intelligence yet. By Sophie Morris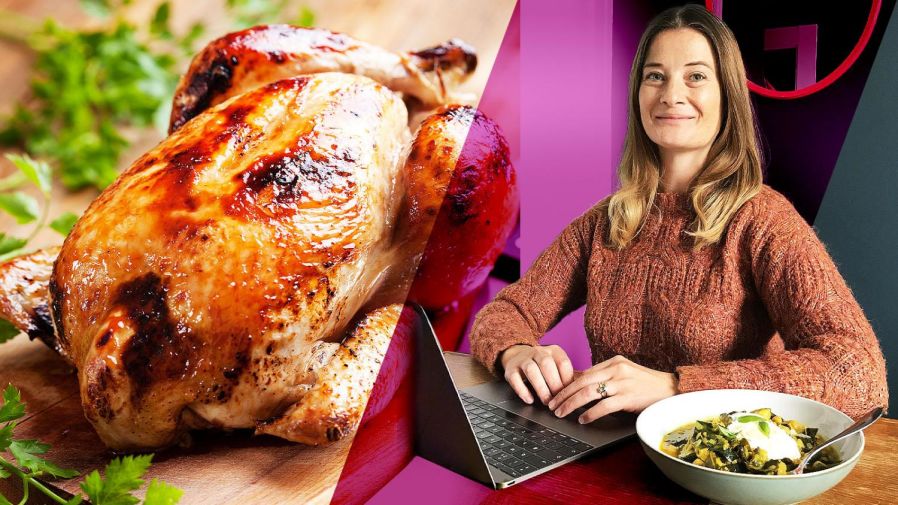 My hopes for a family breakfast of "bacon and egg oats" aren't high — more like low to desperate. I can see how the ingredients might work together in a savoury porridge, but a quick scan of the recipe tells me the results are unlikely to feed the dog, never mind my family.
Unsurprisingly, it was a product of neither Ottolenghi's test kitchen nor Jamie Oliver's imagination, but was invented by Let's Foodie using its new artificial intelligence recipe generator, which makes use of OpenAI (Elon Musk was one of the company's founders). "Recipe generators are nothing new but they rely on predetermined outcomes," says Lewis Crutch, Let's Foodie's founder. "Our sophisticated application lets the AI create recipes instead."
OpenAI has received a huge amount of media attention since the launch of ChatGPT, a chatbot that can do everything from writing poetry to taking medical exams with varying degrees of success. Let's Foodie's AI tool seems similarly imperfect, but I labour on, frying bacon in a dry pan until crispy, taking out the bacon and adding oats (also dry) into the same pan and cooking them for two minutes, by which point they are burnt. Next up, a teaspoon of oil, and eggs cracked directly onto the oats and "stirred until cooked through, about 5 minutes", plenty of time for them to turn rubbery and cling to the carbonised oats. I return the bacon to the pan, stir, season and serve the dish to my husband, asking him to please pick out the bacon if he can't bear the rest because it was a high-end piggy.
I have a punnet of plums past their best, so ask the generator for ideas. The first hit is a plum and pineapple stir-fry. I pass. Next comes a plum and kale rice dish seasoned with cumin and cinnamon. Another pass. Am I just not adventurous enough? I console myself by gazing at my recipe books, the pages of which can take me to Italy, Mexico, California and China via ice-cream parlours, circus restaurants and classical French kitchens. I return to the recipe generator, combine my leftover oats and plums, and hit something like the jackpot — a plum crumble and yoghurt parfait, both of which sound edible, but I could have got to them more quickly using Google's standard search engine.
Asking for help roasting a chicken throws up problems. The truth is I know how to roast a chicken, but I'll never run out of enthusiasm for new ways to get crispy skin or for fresh perspectives on seasoning and sides. Yet however many attempts I allow it the recipe generator comes up with some variation on chicken with potatoes and onions, occasionally with lemon and garlic thrown in. I can't even give it the benefit of the doubt and recommend it to rookies, because the method is scant on detail, and undercooked chicken is one of the biggest fears for less than confident cooks. When I finally get it to respond with a recipe for my large, 2.25kg chicken the result is dangerous. It tells me to roast the bird for one hour and 15 minutes. I know this isn't long enough. At least 20 minutes per 500g is recommended, usually with an extra 20-30 minutes.
A Dubai pizza chef, Spartak Arutyunyan of Dodo Pizza UAE, recently praised ChatGPT for prompting him towards "braver experiments" in his pizza creations. According to Arutyunyan, ChatGPT suggested a lamb kofta pizza with tahini and za'atar sauce, topped with feta. But he tweaked the recipe, changing the lamb for chicken, the feta for paneer, and adding lime, paprika and spices. In other words, he saw the AI's shortcomings and used his professional experience to create his own recipe.
I give ChatGPT a go with the bacon, eggs and oats. It improves on the other recipe, making a porridge first and topping it with the fried bacon and eggs and some spring onion. What if I'd used a cookbook? I try Bacon, the Cookbook by Niamh Shields and bookmark maple bacon granola and candied bacon flapjacks, two recipes I'd be delighted to serve guests, not only mere family members.
There are benefits to using AI in the food industry. Large manufacturers have been experimenting with it for years in automated production and supply-chain management. Nestlé says it has developed a coffee recipe using AI. Its chief technology officer Stefan Palzer praised its "transformative power", while reassuring consumers that he does not intend it to "replace natural or human intelligence in Nestlé".
At January's Consumer Electronics Show (CES) in Las Vegas a health company called VersaWare showcased a chopping board and bowl that calculate nutritional information as you prep, to track portion size and calories. GE unveiled a smart mixer. In 2020 Samsung revealed the first incarnation of its Bot Chef, which can chop and fry tofu. This year its more modest launch is an oven that tells you when food is about to burn.
New online retailer the Deli Society promises that its AI shop assistant Olive will help customers to shop according to their palate. I tell it that I like all cheese, and it matches me with all of its cheese products. While I'd rather chat to a cheesemonger I don't live near any, and when I choose a cheese Olive does make helpful wine suggestions. As with Amazon, these sorts of algorithms usually have the bubble effect, whereby you are too often offered more of the same instead of encouraged to try something new.
Though soul-dampening from a dining perspective, I can see how the recipe generator can be useful for healthy eating, if you're following a restricted diet such as low in salt or gluten free. But will I use the recipe AI again? Probably not. It misses the core components that have sexed up food media in recent years — photos, for starters. We aren't turned on to cooking by a list of ingredients but by mouthwatering images, engaging writers and methods that explain and connect us to the dish rather than fire instructions. At this point, I'm not sure Nigella, Jamie or Delia have anything to fear. What's more, part of me worries that if I ask the AI chef about eggs again, it'll tell me to go suck them