Panic buying of our favourite European ingredients? Or a welcome boost for classic British dishes? Chefs and food producers tell Sophie Morris how leaving the EU might change the way we eat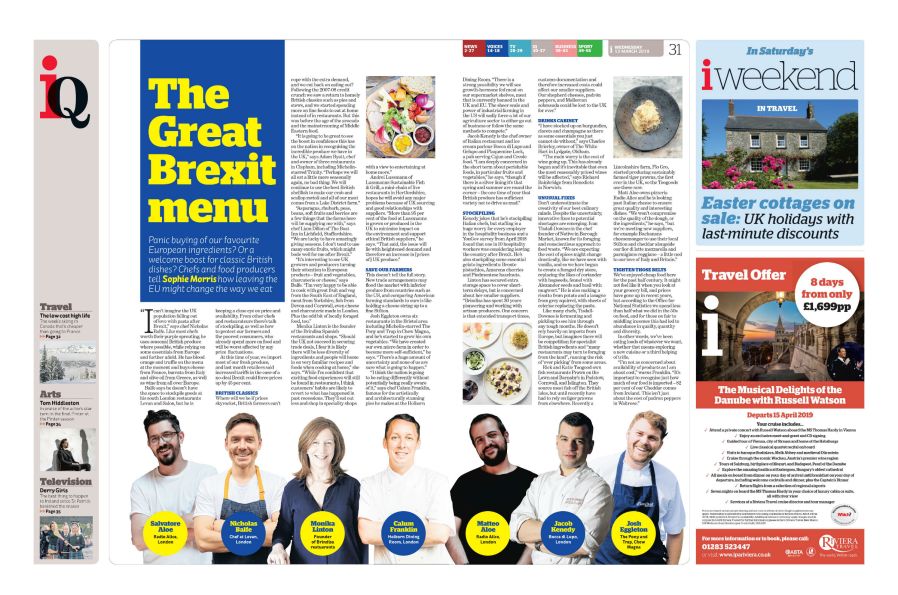 "I can't imagine the UK population falling out of love with pasta after Brexit," says chef Nicholas Balfe. Like most chefs worth their purple sprouting, he uses seasonal British produce where possible, while relying on some essentials from Europe and further afield. He has blood orange and truffle on the menu at the moment and buys cheese from France, burrata from Italy and olive oil from Greece, as well as wine from all over Europe.
Balfe says he doesn't have the space to stockpile goods at his south London restaurants Levan and Salon, but he is keeping a close eye on price and availability. From other chefs and restaurateurs there's talk of stockpiling, as well as how to protect our farmers and the poorest consumers, who already spend more on food and will be worst affected by any price fluctuations.
At this time of year, we import most of our fresh produce, and last month retailers said increased tariffs in the case of a no-deal Brexit could force prices up by 45 per cent.
BRITISH CLASSICS Where will we be if prices skyrocket, British farmers can't cope with the extra demand, and we cut back on eating out? Following the 2007-08 credit crunch we saw a return to homely British classics such as pies and stews, and we started spending more on fine foods to eat at home instead of in restaurants. But this was before the age of the avocado and the mainstreaming of Middle Eastern food.
"It is going to be great to see the boost in confidence this has on the nation in recognising the incredible produce we have in the UK," says Adam Byatt, chef and owner of three restaurants in Clapham, including Michelin-starred Trinity. "Perhaps we will all eat a little more seasonally again, no bad thing. We will continue to use the best British shellfish to make our crab and scallop ravioli and all of our meat comes from a Lake District farm."
"Asparagus, rhubarb, peas, beans, soft fruits and berries are a few things that the farms here will be supplying me with," says chef Liam Dillon of The Boat Inn in Lichfield, Staffordshire. "We are lucky to have amazingly giving seasons. I don't tend to use many exotic fruits, which might bode well for me after Brexit."
"It's interesting to see UK growers and producers turning their attention to European products - fruit and vegetables, charcuterie or cheese," says Balfe. "I'm very happy to be able to cook with great fruit and veg from the South East of England, meat from Yorkshire, fish from Devon and Cornwall, even cheese and charcuterie made in London. Plus the odd bit of locally foraged food, too."
Monika Linton is the founder of the Brindisa Spanish restaurants and shops. "Should the UK not succeed in securing trade deals, I fear it is likely there will be less diversity of ingredients and people will home in on very familiar recipes and foods when cooking at home," she says. "While I'm confident that exciting food experiences will still be found in restaurants, I think customers' habits are likely to revert to what has happened in past recessions. They'll eat out less and shop in speciality shops with a view to entertaining at home more."
Andrei Lussmann of Lussmanns Sustainable Fish & Grill, a mini-chain of five restaurants in Hertfordshire, hopes he will avoid any major problems because of UK sourcing and good relationships with suppliers. "More than 95 per cent of the food at Lussmanns is grown or produced in the UK to minimise impact on the environment and support ethical British suppliers," he says. "That said, the issue will lie with heightened demand and therefore an increase in [prices of ] UK produce."
SAVE OUR FARMERS This doesn't tell the full story. New trade arrangements may flood the market with inferior produce from countries such as the US, and comparing American farming standards to ours is like holding a cheese string up to a fine Stilton.
Josh Eggleton owns six restaurants in the Bristol area including Michelin-starred The Pony and Trap in Chew Magna, and he's started to grow his own vegetables. "We have created our own micro farm in order to become more self-sufficient," he says. "There's a huge amount of uncertainty and none of us are sure what is going to happen."
"I think the nation is going to be eating differently without potentially being really aware of it," says chef Calum Franklin, famous for the artistically and architecturally stunning pies he makes at the Holborn Dining Room. "There is a strong possibility we will see growth-hormone fed meat on our supermarket shelves, meat that is currently banned in the UK and EU. The sheer scale and power of industrial farming in the US will sadly force a lot of our agriculture sector to either go out of business or follow the same methods to compete."
Jacob Kenedy is the chef owner of Italian restaurant and ice cream parlour Bocca di Lupo and Gelupo and Plaquemine Lock, a pub serving Cajun and Creole food. "I am deeply concerned in the short term about perishable foods, in particular fruits and vegetables," he says, "though if there is a silver lining it's that spring and summer are round the corner - the one time of year that British produce has sufficient variety not to drive us mad."
STOCKPILING Kenedy jokes that he's stockpiling Italian chefs, but staffing is a huge worry for every employer in the hospitality business and a YouGov survey from April 2018 found that one in 10 hospitality workers was considering leaving the country after Brexit. He's also stockpiling some essential gelato ingredients: Bronte pistachios, Amarena cherries and Piedmontese hazelnuts.
Linton has secured extra storage space to cover shortterm delays, but is concerned about her smaller suppliers. "Brindisa has spent 30 years pioneering and working with artisan producers. One concern is that extended transport times, customs documentation and therefore increased costs could affect our smaller suppliers. Our shepherd cheeses, padrón peppers, and Mallorcan sobrasada could be lost to the UK for ever."
DRINKS CABINET "I have stocked up on burgundies, clarets and champagne as there as some essentials you just cannot do without," says Charles Brierley, owner of The White Hart in Lydgate, Oldham.
"The main worry is the cost of wine going up. This has already begun and it's inevitable that even the most reasonably priced wines will be affected," says Richard Bainbridge from Benedicts in Norwich.
UNUSUAL FIXES Don't underestimate the creativity of our best culinary minds. Despite the uncertainty, innovative fixes to potential shortages are emerging. Ivan Tisdall-Downes is the chef founder of Native in Borough Market, known for its foraging and conscientious approach to food waste. "We are expecting the cost of spices might change drastically, like we have seen with vanilla, and so we have begun to create a foraged dry store, replacing the likes of coriander with hogseeds, fennel with Alexander seeds and basil with mugwort." He is also making a risotto from potato and a lasagne from grey squirrel, with sheets of celeriac replacing the pasta.
Like many chefs, Tisdall-Downes is fermenting and pickling to see him through any tough months. He doesn't rely heavily on imports from Europe, but imagines there will be competition for specialist British ingredients and "many restaurants may turn to foraging from the land", running the risk of 'over picking' from some areas.
Rick and Katie Toogood own fish restaurants Prawn on the Lawn and Barnaby's in Padstow, Cornwall, and Islington. They source most fish off the British Isles, but until recently have had to rely on tiger prawns from elsewhere. Recently a Lincolnshire farm, Flo Gro, started producing sustainably farmed tiger prawns, the first ever in the UK, so the Toogoods use these now.
Matt Aloe owns pizzeria Radio Alice and he is looking past Italian cheese to ensure great quality and interesting dishes. "We won't compromise on the quality of the dough, or the ingredients," he says, "but we're meeting new suppliers, for example Buchanans cheesemonger to use their local Stilton and cheddar alongside our fior di latte mozzarella and parmigiano reggiano - a little nod to our love of Italy and Britain."
TIGHTEN THOSE BELTS We've enjoyed cheap food here for the past half century. It might not feel like it when you look at your grocery bill, and prices have gone up in recent years, but according to the Office for National Statistics we spend less than half what we did in the 50s on food, and for those on fair to middling incomes this had led to abundance in quality, quantity and diversity.
In other words, we've been eating loads of whatever we want, whether that means exploring a new cuisine or a third helping of trifle.
"I'm not as concerned about availability of products as I am about cost," warns Franklin. "It's important to recognise just how much of our food is imported - 82 per cent of our Cheddar comes from Ireland. This isn't just about the cost of padron peppers in Waitrose.