Sophie Morris bites into the cult French pastries that have created queues in Mayfair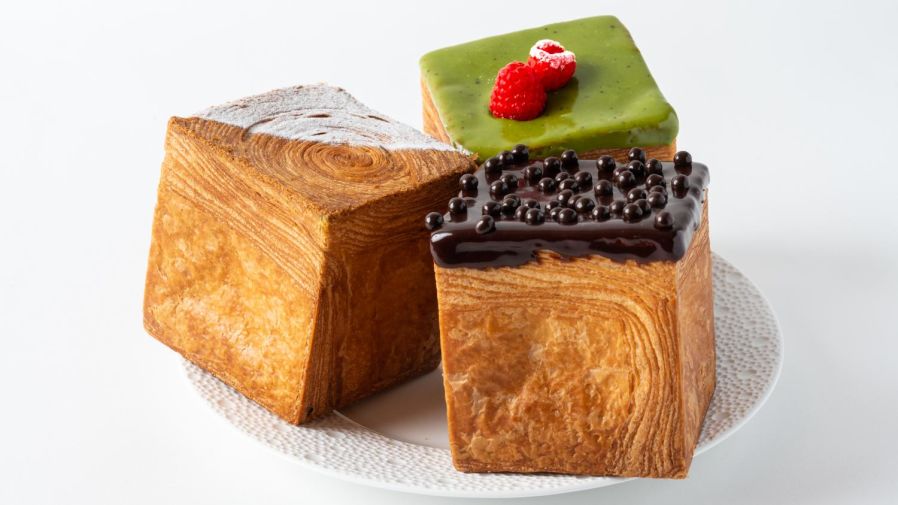 Trying to take a bite of the latest craze in the croissant world is a prime example of forcing a square peg into a round hole. Le Cube Robuchon, a £6.95 cube-shaped croissant, usually sells out by mid-morning, but if you do survive the queue ? described by one acolyte as a "real-life Hunger Games" ? the next hurdle is working out how to eat the brick of flaky pastry. Some videos on social media show the sensible way, slicing it down the middle with a knife. But most food influencers prefer to grip it with both hands, jam thumbs into the top and tear into it so the cream spills out and their palms and wrists emerge smeared in icing.
This extreme interpretation of viennoiserie, which the Frenchowned, London-based Le Deli Robuchon launched this year, has gone viral, amassing millions of views on TikTok. Now hybrid manipulations of the humble plain croissant are everywhere, from fine dining restaurants to Costa and Starbucks. At Studio Frantzen in Harrods, laminated dough is curled into four glossy whorls and served as a sharing monster croissant with miso butter. At Fallow near Piccadilly Circus, the Royales are croissant rolls shaped like burger buns, stuffed with sausage and bacon or smoked salmon belly.
Is it time to get back to basics? I'm all for pains au chocolat, aux raisins, and the frangipane delight of aux amandes. But is the hype around hybrids threatening our OG croissant? "If I want to test a bakery, I always try their plain croissant," says Lisa Harris of Harris and Hayes food and drink consultancy, which advises international bakery clients on UK pastry trends. "There's nothing to hide behind except lamination and butter. Anyone can make pastry taste good if you cover it in crème pât, but a crisp, perfectly executed croissant is pure skill." She has some reassuring words for a devoted croissant fan like me. "Despite all these hybrid upstarts, the croissant isn't going anywhere."
Oversized iced cronuts and cream-filled cruffins began to appear in specialist bakeries from 2016. The cronut, a croissant-doughnut hybrid, was one of the first viral cakes. Since cruffins (croissant-muffins) turned up in supermarkets, high street chains and my local coffee shops, I'm more likely to find one of these gargantuan dough sculptures than an ordinary croissant after 10am.
Harris's favourite croissant is from Yeast in Hackney, east London, but she says supermarket croissants are "too soggy". I find that most of the "all butter" versions taste identical ? acceptable but too dense, and outclassed by the frozen, ready-tobake versions, though these require patience. Size matters too. Croissants are getting bigger in cafés, some weighing in at twice the typical 60g. My local, the Modern Boulangerie in Ramsgate, Kent, somehow pulls off a croissant with honeycomb lamination and a glossy shell made with butter that smells like a meadow for £1.50 a pop.
"These hybrids work because the croissant is such an iconic, much loved pastry," Harris says. "The trick is to stretch innovation far enough to be exciting, like the cube croissant, but not so far as to be unappetising ? like crossushi. When restaurants and bakeries are still struggling to get back on their feet postpandemic, these kinds of innovations are essential."
Best supermarket
Morrisons the Best all-butter croissants, £2.19 for four, or M&S frozen ready-tobake, £4.25 for eight
Best chain croissant
Gail's, £16 for six
Ready to experiment?
Start with a plain cruffin filled with vanilla crème pât and rolled in sugar. Eat sitting down.