Would you Adam and Eve it?
The i Paper
Brogdale Farm in Kent grows more than 2,000 varieties of apple to save rare types for the future. Sophie Morris discovers more about the top of the crops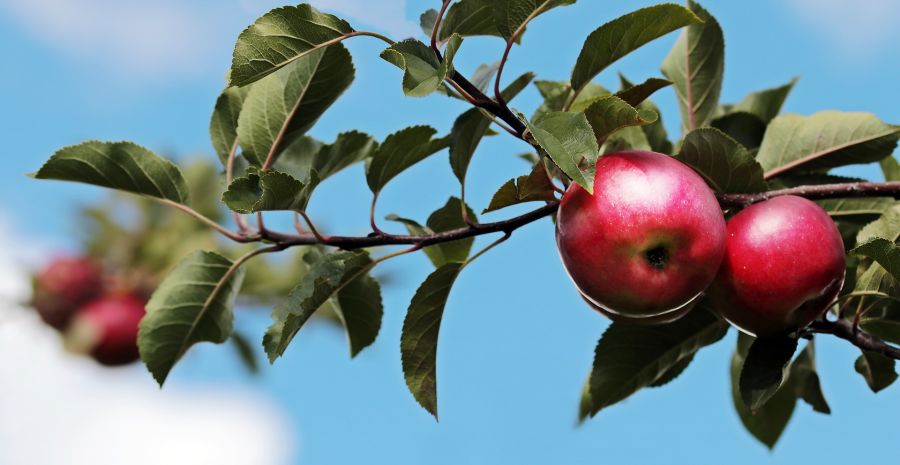 A thin mist is lifting from the Kent orchards, revealing rows and rows of apple trees blushing under the autumn sun at Brogdale Farm, home to the National Fruit Collection, and bowing to the weight of their October bounty. Mike Austen, whose family farmed near Faversham from the 1800s until his retirement 15 years ago, is giving me a tour of some of the trees - two each of 2,200 apple varieties - and explaining why we see only a tiny proportion of these in most shops.
"A lot of these old varieties that are no longer commercial have lovely flavours, but they may be biennial, or don't look very good, or don't yield as well as the modern varieties, so they don't get a look-in," he says.
No doubt the words Alkmene, Carnet and Delcrof mean little to you, but they're all varieties of apple. As are Sunset, Ten Commandments and Worcester Pearmain, one of Austen's favourites. You won't find any on a typical supermarket shelf, because they're stacked with Gala, Braeburn and Jazz apples, along with a few other popular varieties. Gala is the largest single variety of eating apple produced in the UK, while Jazz is a hybrid of Gala and Braeburn.
Many of the older, hard-to-find varieties, which are now protected at Brogdale, were bred by private gardeners at big houses, and never stood a chance in a global market economy controlled by mega agribusiness. "They were fine to pick and take up to the big house," says Austen, "but commercially they didn't do very well. They wouldn't travel, or produce a big enough crop, or were difficult trees to grow."
We are often told we should eat more "ugly" produce - last year Asda introduced a hugely successful "wonky veg" box for £3.50, which MPs have since said should be sold as standard to prevent waste - but why is holding on to old varieties so important? "People miss out on flavour," says Austen. "A lot of these modern varieties are good apples, they're crunchy and juicy, and lots of the younger generation like crunch and juice, whereas the older generation like a slightly softer apple with more flavour."
They also insure our future food supply. As home to more than 4,000 varieties of fruit tree, including apple, pear, quince and plum - there are even around 50 varieties of cobnut - Brogdale's orchards are crucial to the history and heritage of these fruits, but they are also a functioning laboratory for securing harvests for centuries to come.
While the charity Brogdale Collections makes sure the public gets to enjoy the orchards (arranging tours and events such as this weekend's apple festival, and strawberry, cherry, plum, pear and cider days through the year) the trees themselves are owned by Defra, and are a vital gene bank and scientific resource for developing future food crops.
The public can tour Brogdale's orchards from April to October, and this weekend it's the National Apple Festival, where guests can try and buy any of the varieties, including the oldest known apples, from AD450, through to apples from Henry VIII's time, and on to the present day. Families can pile into a trailer tractor for a trundle around the farm, enjoy a ride on the Faversham Miniature Railways, or learn about cider-making, while cooks will find inspiration in the apple pies and fritters made with Brogdale fruit served in the tea rooms.
Britain has always been proud of its apples, which is down to our climate, according to Austen. "We're Visit North Devon and have your own apples pressed and bottled at Clovelly Apple Day on Saturday 28 October, then join in the apple crafts and activities and the village's harvest hunt.
clovelly.co.uk a little bit cooler than the Continent so the apples take a little bit longer to ripen, so tend to get a better flavour. We may not get such high yields as on the Continent, with the slightly warmer weather. But we like to think that our apples taste better and have a richer flavour."
Creating a new variety of apple to meet modern standards is a long process, but good apples sometimes came about by chance, or were found in the wild, like Newton Wonder, discovered on a roof in the village of Kings Newton in Derbyshire, around 1870.
Mr Bramley didn't even plant his very famous apple, the most popular cooking apple in the UK. The story goes that a girl called Mary Ann Brailsford planted some pips in her Nottinghamshire garden in 1809, and the tree she grew became the property of butcher Matthew Bramley when he bought the cottage in 1846. A decade later he allowed a local farmer to take some cuttings and grow the variety for sale, but only if the fruit took his name.
"Every time you plant a pip you get a new variety, so the only way to keep them going year after year is by grafting and budding, you can't do it by planting," says Austen. "But you can grow fruit easily in a small garden. You can plant a tree along a fence for example."
Surprisingly, we have always been dependent on imported apples during our off season, but our most popular apples, Gala, Braeburn and Jazz, all originated in New Zealand; in past, cooler, years Braeburns were very tricky to grow here. But while fruit varieties are clearly labelled in shops, what sort of apples are growing at the bottom of your garden? At the apple festival experts Joan Morgan and Jim Arbury will pronounce the variety of any specimen you take along.
And if the apple has never been seen before, you're free to name it as Mr Bramley did and as most do: after yourself.