Almost every major chain has a membership scheme now - but which offers the most? By Sophie Morris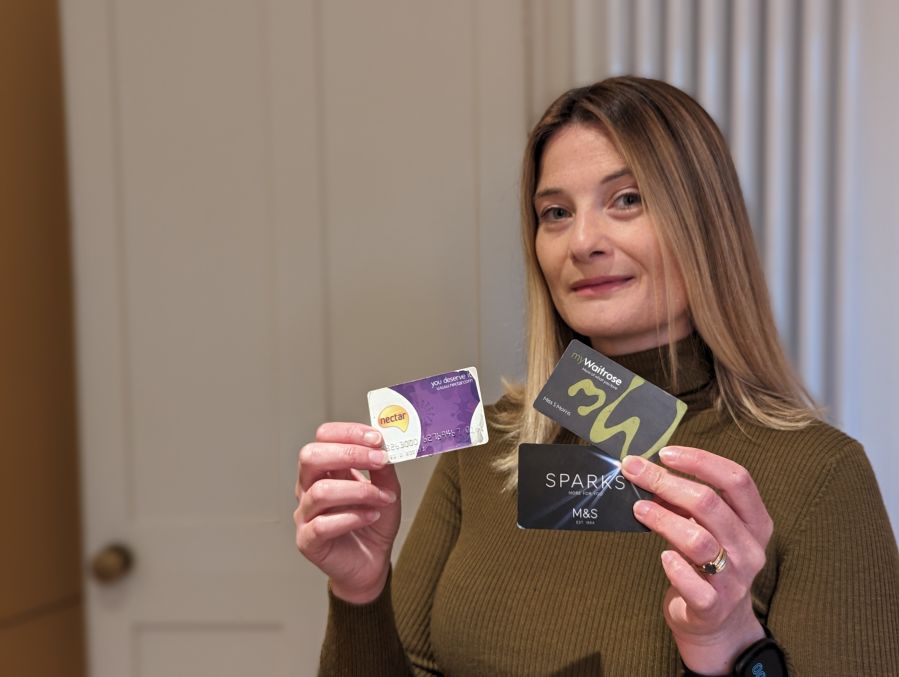 Me with my supermarket loyalty cards!
Post-Covid and mid-cost of living crisis, with mortgage rates being hiked once again, the BBC reports that we have changed the way we shop. According to Kantar data, consumers are turning to supermarket loyalty cards with more enthusiasm than ever.
As well as financial worries, being able to hold the cards in a digital wallet or supermarket app, rather than carrying around a chunky purse stuffed with physical cards, is apparently also encouraging us to use more loyalty schemes than before.
But this means these schemes are fighting for our attention. And if supermarkets were suitors, I would be considered highly promiscuous. I regularly go to most of the big names, but I hate shuffling through my wallet for the right card just so the megastore can cream off all my personal information in exchange for a paltry five points I'll probably never spend.
This summer, many of the major retailers are changing the way they offer rewards to customers via loyalty schemes. With revamped apps, they are rolling out new bonuses and approaches to discounting, with Sainsbury's and Morrisons copying Tesco's Clubcard approach to pricing.
TESCO CLUBCARD
It's fair to call Tesco the original price hacker. It has been offering better prices on certain products to its Clubcard members since 2019.
However, the supermarket ran into trouble last week when consumer watchdog Which? reported it to the Competition and Markets Authority (CMA).
Which? said Tesco does not make the unit price of products clear enough to shoppers, making it hard for them to work out which product is actually the best value, despite how good the Clubcard offers appear at a glance. Tesco has called the complaint "ill-founded".
The Clubcard still also offers a points scheme with vouchers and rewards. One point is issued for every pound spent, and 250 points can be turned into a £2.50 voucher. Clubcard Plus is a £7.99/month subscription scheme that Tesco claims can save you £40/month.
SAINSBURY'S NECTAR
Since Sainsbury's began offering special prices for Nectar card holders in April - the so-called Nectar prices, available on more than 300 products - I've been drawn to them like a bee to honey. There are some brilliant deals on branded items, such as 500g Lurpak Spreadable butter for £3.25 rather than £5, and 900ml Tropicana orange juice for £1.60 instead of £3.25.
The cynic in me asks how it can offer such bargains when food inflation is so high across the board. Supermarkets were last month accused of profiteering from the cost of living crisis and tarnished with the label "greedflation", but experts pointed out that this couldn't be the case, given that profits are down all round.
With Nectar, you can earn one point per one pound spent or litre of fuel bought, and each is worth 0.5p off shopping, or redeemable against many other brands and offers.
MORRISONS MORE
This is a revamp of Morrisons' existing loyalty scheme that offers points and targeted rewards as well as "More Card Exclusive Prices" in store. There are holiday-related deals too - for Father's Day, a £4.50 Toblerone was down to £3 for More card holders, while rump steak was £9.99/kg instead of £17/kg and there was 50 per cent off various gifts.
Points can be earned in store, online and on fuel, and 5,000 points will get you a £5 voucher.
ASDA REWARDS
The UK's third-biggest supermarket is selling its new rewards scheme on the fact you earn "Pounds, not points" - actual money kept in your in-app "Cashpot" - when you buy designated products.
It also offers regular discounts to members on scores of everyday products, as well as "Missions" for extra cashback, such as an extra £1 for buying five frozen items.
CO-OP MEMBERSHIP
The Co-op loyalty scheme costs £1 to join and offers members the chance to collect points (2p for every £1 spent) and access personalised discounts.
In April it launched Co-op Member Prices in line with other big retailers, and the supermarket claims you could save up to £300 a year if you use the scheme.
WAITROSE MYWAITROSE
As a more expensive supermarket fighting to retain its customers, Waitrose last week announced reduced prices on more than 200 everyday lines, from butter, ketchup and sugar to beef mince, chicken thighs and summer treats such as ice lollies.
Half of the items will be reduced by at least 10 per cent, and Waitrose says that when it lowered prices on 300 lines in February, the move attracted new customers. It also claims that, with 900 items, its Essential Waitrose line is the largest of any supermarket's own-brand low-cost range.
myWaitrose members are also sent regular offers tailored to their own shopping habits. Other benefits include a free hot drink every day (with a purchase), 20 per cent off selected fish on Fridays and meat on Saturdays, and free Waitrose magazines.
LIDL PLUS
Following a recent revamp, the Lidl Plus scheme offers different rewards depending on how much users spend each month, from £50 for a free pastry and £100 for a £2 voucher to £250 for a 10 per cent off voucher. This can all be accessed on the Lidl phone app.
ALDI
No loyalty schemes here - Aldi prides itself on offering consistently low prices to all shoppers, which makes the loyalty scheme moot.
MARKS & SPENCER SPARKS
I couldn't leave M&S out of this, but I don't think I've ever felt tempted to shop there thanks to the Sparks card's personalised offers, which are £1 off a newspaper and 50 per cent off a day out in June if I spend £35 on clothing. That feels more like a negotiating process than an offer.
But overall I'm much more attracted by the supermarket's "market specials" prices on fruit and veg - which are available to all shoppers - and many consumers have noticed that, compared with price hikes in other supermarkets, M&S seems less expensive than it used to.
It recently launched Sparks Plus, a £12/month subscription scheme that it claims could save you £200 a month.
Fifty per cent off a day out in June if I spend £35 on clothing? That's more like a negotiation than an offer